HSJ and healthcare partnership Circle inaugurate a prize that will recognise the brightest and bravest thinking that seeks to influence health policy today.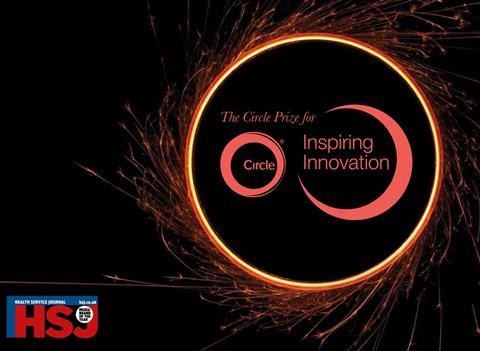 Circle Award
When HSJ and healthcare partnership Circle launched the Circle Prize for Inspiring Innovation at the Conservative Party conference in October, HSJ editor Alastair McLellan said he hoped it would become the "Booker Prize for thought leaders in health".
With a prize of £20,000 for the winner, nominations for published work have flooded in - from within the NHS, from the think tanks that seek to influence health policy and from the US. There are several strands within the nominations. One theme was linked to the information revolution that the Department of Health wants as part of its proposed reforms.
From outside the NHS comes Tom Steinberg, founder of mysociety.org, an organisation that is devoted to democratising government information. Mysociety is the organisation behind websites such as theyworkforyou, which enables people to write to their MPs, and fixmystreet, through which people can share information and press their local council to carry out street repairs.
Recently, Mr Steinberg has argued that the NHS should be making its information available to third parties in the same way. Not confidential patient information but anonymised data that tells us more about how our health system is performing. He argues that is good for democracy and will tap into the innovation within any community.
Power of information
Paul Hodgkin is a clinician who also believes in the power of information. He started patientopinion.co.uk as a social enterprise. Patients can share their experiences with other users and with healthcare providers.
He says: "The NHS does listen to what people say on Patient Opinion. We know this because hospitals tell us how they have improved services as a direct result of feedback on the site."
Tim Kelsey, meanwhile, argues that reporting clinical outcomes could be an important driver for improving care. The government is certainly persuaded of this - but Mr Kelsey, now at consultants McKinsey, argues that it is a work in progress. Clinicians need evidence if they are to buy into the idea and he is now developing this from international sources.
The nomination for US surgeon Atul Gawande also focuses on service improvement, but this time through an approach of preventing mistakes. He advocates the use of checklists for complex procedures and has shown in his most recent book how this can reduce error significantly. He is attracting attention not just in healthcare, though. The Checklist Manifesto is a New York Times bestseller.
But how to get such checklists implemented? Janice Stevens, national director of the healthcare associated infection and mixed sex accommodation programmes, may have the answer. Her quality improvement work, published in HSJ in December, suggests that using a rapid approach to implementing evidence-based practice across an entire organisation, in a big bang tactic, may be the way forward.
How we organise services was another theme in the nominations, with some very different ideas emerging. Again from the US, Clayton Christensen and Jason Hwang argue in their book The Innovator's Prescription that hospitals are not always the best place to provide care. Routine procedures, even complex ones such as hip replacements or dialysis, could be hived off to more efficient external clinics, carried out by skilled technicians rather than doctors and paid for by results.
Richard Kramer's work as director of Turning Point's Connected Care is home grown - but no less revolutionary. Connected Care is a model for community based commissioning that aims to narrow the gap between commissioner's priorities and the needs of a community through community engagement. It is an area where the NHS has always struggled and Turning Point's practical work with published results is now gaining wide attention.
Again on the theme of engaging communities, David Robinson's new book Out of the Ordinary argues that the economic climate should not be viewed as a catastrophe but as an opportunity to move towards more preventative services. He sets out how to engage communities in delivering this.
Implementing the sorts of approach advocated by Mr Kramer or Mr Robinson would require a change in culture in the NHS. The nomination for Professor Chris Ham and Jo Ellins may point the way on how to achieve that. Their work for the King's Fund, where Professor Ham is now chief executive, looks at employee ownership in the NHS, arguing it can foster staff engagement. Given the government's desire to explore this dynamic, it is an important piece of work.
This is a glimpse of just some of the nominations - the judging panel of Bill Moyes, former executive chair of Monitor; Stephen Dorrell MP, chair of the Commons health select committee; Mike Farrar, chief executive of NHS North West; Mark Britnell, global head of health KPMG; Alan Milburn, government adviser on social mobility; Ali Parsa, managing director of Circle Health, and Dame Carol Black, national director of health and work, will certainly have their work cut out in deciding a winner.