Offender management in Luton and Central Bedfordshire is cumbersome and costly. In the second article in our series on Total Place, Helen Mooney looks at how the NHS, local government and agencies are using the scheme to tackle this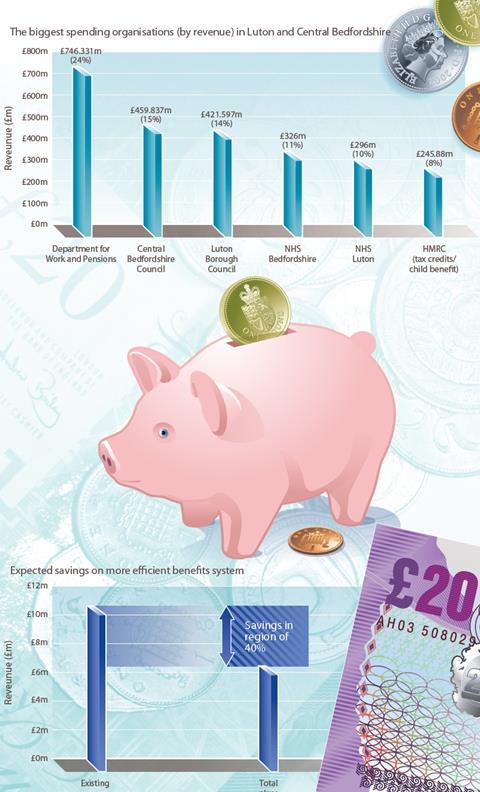 Total Place: why working together boosts independence
The theme of the Total Place pilot for Luton and Central Bedfordshire, "From dependence to self-reliance", is intended to create new proposals that will see all public agencies across the region better addressing community issues.
Since July the region - including the NHS, local authority and a range of other public sector agencies - has held interagency workshops which have in turn developed two distinct sub-themes for the Total Place pilot.
These will examine access to benefits for the local population and develop an integrated offender management programme.
The region is one of 13 areas selected for Total Place pilots, which are examining the totality of public spending with a view to improving efficiency and service quality.
All the organisations in this pilot provided at least two senior personnel to work intensively on the project in November last year. During December and January, a combined local authority team gathered the findings, assimilated data and prepared recommendations.
Both sub-groups have studied how the teams are working on access to benefits and integrated offender management, looking particularly at the weaknesses, duplication and problems within the system.
The pilot intends to improve working methods to remove the identified weaknesses.
Both sub-themes reflect some major concerns for residents across Luton and Central Bedfordshire and both reflect areas where partners felt an impact could be made on the lives of the local population.
The NHS, local government and other agencies decided to focus on these areas to work for big improvements to service quality.
Joint aspirations
Significant partnership working is already taking place in these areas and the region has recognised where this could be further developed and is looking at where opportunities exist to make efficiency savings across the wider public sector locally and nationally.
Joint aspirations for the Total Place pilot across Luton and Central Bedfordshire are that it will:
have significant impact;
be deliverable within time and resource constraints;
be of interest across local organisations;
be customer focused;
change the way agencies do business;
deliver efficiencies.
So far the Total Place pilot "high level count" - that is, funding across all agencies and public sector bodies - for the area has identified £3.4bn of government spend locally, equating to £6,853 per head of population, or £16,778 per household.
Estimates indicate that over £146.8m a year is spent on dealing with crime and administering the criminal justice system, 4 per cent of the total spend.
The area spends more than £987.7m a year on social security benefits, equating to 28.75 per cent of the total public sector spend.
The way offenders are being dealt with offers an example of expensive system failure.
Work has been carried out to track the typical path of an offender through a system administered by a myriad of agencies, and initial conclusions show that the process is self perpetuating.
The welfare system is not working as well as it should either. The benefits system is complicated, cumbersome and fragmented. It is confusing to claimants and extremely expensive to administer too.
NHS Luton chair Gurch Randhawa explains that in looking at offender management Total Place is a "natural vehicle" for addressing mental health and drug and alcohol dependency of offenders.
"Luton has significant issues of drug dependency and mental health and we are keen to tackle these as part of a whole remit which looks at worklessness, access to benefit, jobs and social services. Total Place has enabled us to start to work on these issues jointly with the council," Professor Randhawa explains.
Continuing strategy
Hilary Laughton, NHS Bedfordshire head of partnerships and commissioning for adults and older people, is also seconded to the regional health, social care and criminal justice team. She explains that the region was already working for better multi-agency practice in terms of mental health and well-being of offenders and that the Total Place programme has coincided with that.
"In Bedfordshire for example we have undertaken offender health needs assessment which has been multi-agency and the steering group for that work includes people who are also working on Total Place."