Foundation trusts should watch how the top companies fight their corner on the stock exchange, says Mike Hay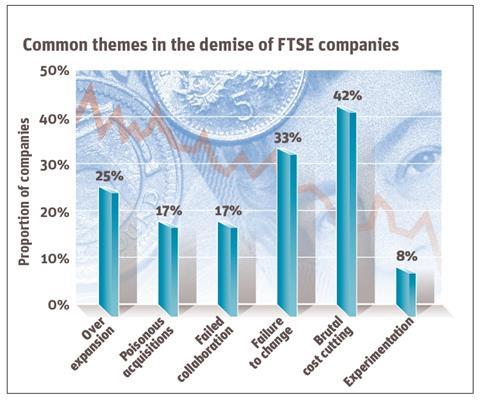 What all foundation trusts can learn from the FTSE
Achieving foundation trust status ensures a high profile that both acknowledges excellence and invites scrutiny. It creates more space to innovate, and opportunity for the organisation to take control of its destiny. But with ambition comes risk.
Failure is not the inevitable fate of all large organisations; there are companies that have sustained a top position in the FTSE for decades or more
The history of other, familiar leagues of top organisations provides some sobering reflection. Take the FTSE 100: this lists the hundred biggest public companies in the UK. Tenure on the FTSE 100 can be short lived: size and status are no guarantees of sustained success. What lessons does the rise and fall of companies on the FTSE hold for foundation trusts?
Of the 100 biggest companies in the year 2000, many are no longer even in the top 350 today. Some of these have disappeared through name changes, moving abroad or mergers, but our analysis showed 12 businesses that had clearly failed - declared bankruptcy, shrivelled to a husk of their former strength or been taken over by a competitor. There are some common themes behind their demise:
Overexpansion Many companies fuelled their expansion with debt. While the going is good there seems little downside, but the going is never good for ever.
Experimentation When you are good at what you do, it is tempting to think you will be good at anything you do, failing to recognise when success is built on specific strengths.
Failure to change Communities and customers are constantly evolving. The converse of overdiversification is the failure to change at all.
Poisonous acquisitions Merger and acquisition is the "national sport" of the FTSE 100. It is glamorous and exciting. It is also frequently deadly.
Brutal cost cutting When things start to look shaky, companies sustain profits by taking costs out of the business. Too often, cost cutting ends up weakening the organisation.
Failed collaboration Big joint ventures divert management attention and are tricky to back away from.
Many of these themes are equally applicable to foundation trusts (see graph). They have the power to manage borrowing to invest; many are exploring innovative service offerings with other partners; and all are charged with responding to local health needs.
In the current economic climate, value for money is at the top of the agenda.
Lessons for trusts
What lessons can be learned from this experience to help foundation trusts avoid the perils of success?
Understand what you are good at
Agree as a senior team what your core organisational strengths and competencies are
Evaluate any expansion, merger or innovation in terms of these core strengths
Be sceptical of takeovers
Be clear on the benefit to your organisation and stakeholders from the takeover, and walk away if there is none
Understand the true causes of failure in the other organisation - can you genuinely improve them?
Conduct due diligence on the intangible assets - culture, talent, leadership, relationships
Demoralisation undermines efficiency
Make the case for efficiency in terms of benefits to patients, free up staff time to do the things they are good at
Rather than just cuts, you may need to radically rethink service provision. What does your community really notice and value? Which organisations are best placed to deliver it?
Keep in touch
As well as formal consultations, ensure your senior leadership team directly shares in the patients' experience regularly
When you spot change coming, respond with small, incremental initiatives which test the right approach and learn the lessons they offer
Delivery is as important as vision
Invest in performance management for all your staff as a sustained, relevant experience, rather than a disconnected annual event
Ensure individual accountabilities embed the strategy in the day to day decisions of all employees
Perfect blend
Failure is not the inevitable fate of all large organisations; there are companies that have sustained a top position in the FTSE for decades or more.
If they have anything in common, it is an intriguing blend of confidence and humility. They know what they are good at but they never believe they are perfect or have all the answers - they stay intently focused on the world around them, watching for the seeds of change or dissatisfaction.
When Tesco found itself falling behind competitors in the 1990s it spoke to 250,000 customers. In the words of Sir Terry Leahy, its chief executive: "What came out of this was a shock. Customers told us we were not giving them value. From that day on we determined to follow the customer and not the competition."
He still spends a week every year working on the tills and packing shelves.
Similarly, Unilever knows that its strength comes from quality management. It continues to invest in this "basic", whatever the pressures to reduce costs.
Self awareness and customer focus: these are assets within the grasp of every organisation, and certainly a recipe for foundation trusts sustaining their well earned success into the long term.