Monitor executive chair Bill Moyes leaves the foundation trust regulator this week with no regrets about his stormy journey, as he tells Sally Gainsbury in his final interview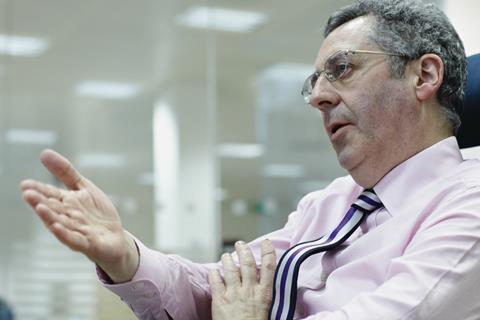 Bill Moyes
Bill Moyes' press officer chuckles knowingly when I mistakenly refer to Monitor's Westminster address as "William Street". Not many chairs or chief executives in British industry - let alone the NHS - have become synonymous with their organisations. But over his six years heading the foundation trust regulator, William Moyes has joined the exceptions.
If every time I went to the board here they said 'you're doing a fantastic job' I could only stomach it for about 10 minutes
Unapologetically challenging up to his last days in the post of executive chair, Mr Moyes attributes the respect he and Monitor command from across the NHS to their decidedly non-NHS background.
"We are a very professional organisation. Most of the staff are from the private sector," he says. "A lot of them have a background in due diligence, where if you get it wrong, you get sued, or you get in deep trouble, to put it mildly."
It is an approach he says the NHS and public sector in general needs more of. He contrasts Monitor's challenging "obsession with failure" with the civil service approach where "your job is actually to try and sell ideas, persuade people".
The implication for Mr Moyes is that in the public sector, rigour is lost, facts get overlooked and the best outcome is sidelined for compromise.
But the crux of the famously tempestuous relationship between Monitor and the Department of Health is far more basic than a clash of organisational cultures.
"It's the fact of our existence," Mr Moyes says.
"There are still plenty of people in the department who think they are the headquarters of a hospital system, and they can bark out orders and everyone will stand to attention. But that's not what we're doing. The very fact we would challenge the department has come as a great shock to [it]."
Most recently the tension has centred on ministerial involvement in the de-authorisation of failing foundation trusts. Similar clashes emerged following DH requests for specific data and instructions for foundation trusts to take part in the "deep clean" programme.
DH animosity
Mr Moyes accepts some might feel Monitor's fierce public reaction to these issues helped fuel DH animosity.
But he argues: "I know as a former civil servant that you give an inch and people take a mile. Once the civil service does it once, that then becomes the way [it] does business.
"I still think on balance we've done the right thing to assert our independence."
His talk about the mutual "noise" , "frustration" and "tension" between Monitor and DH civil servants gives way to anger when he moves on to individual ministers who he claims have acted to undermine the policy established by their own government.
In contrast to his first two supportive health secretaries - John Reid and Patricia Hewitt - he admits to "difficulties" with their successors, Alan Johnson and Andy Burnham.
He says the biggest problem arose with Alan Johnson, whose belief that he himself was accountable to the public and Parliament for foundation trusts was tantamount to a readiness to overrule the law that established their independence.
"I find that ministers who say they don't really care what the law says - 'this is what I'm going to do' - very, very worrying. And that's a principle for me; that's not a comment about him. It doesn't matter which party they are. If ministers think they've created the wrong system, change the law. But while the law is the law I think it's very important ministers obey the law."
Mr Johnson's period as health secretary coincided with the public outcry over serious failings at Mid Staffordshire Foundation Trust. But Mr Moyes says the scale of that furore does not excuse his conduct.
"He was primarily interested in trying to minimise the political problems that Mid Staffs undoubtedly was causing… He was too inclined too quickly to say 'I don't care what the law says, I'm going to take over here'. He and I had some difficult conversations, not just about Mid Staffs but generally, about the way he behaved in relation to us."
But Mr Moyes does not blame politicians or civil servants for only half of eligible NHS hospitals reaching foundation status. He says it is due to "lethargy" from potential applicants and their strategic health authorities.
The problem is not so much with the handful that have applied and been knocked back by either the DH or Monitor, but with the dozens of trusts that have not even got that far.
He would like to have seen more adverse "consequences" for those trusts and their strategic health authorities. He warns that dawdling trusts have subjected themselves to a "very corrosive process" that risks "building up a lot of cynicism" as time is spent establishing a membership, for example, only for the application to stall.
Others - such as Barts and the London Trust, Imperial College Healthcare Trust, University Hospitals of Leicester Trust and Portsmouth Hospitals Trust - claim they have other priorities, namely overseeing large capital developments or institutional mergers.
But they have got their priorities wrong, Mr Moyes says. And for some, it is more pernicious: "The attitude has been: 'We will get our capital development done before we go to Monitor because there's a danger Monitor will expose that we can't afford it.' They would never say it as crudely as that, but that would be the discussion around the table."
On others, he says: "There are some hospitals where the board just feels more comfortable being in the SHA's framework because they don't really want to be in a position where they are responsible if things go wrong and they have to fix it."
But Mr Moyes is not universally impressed with the way foundation trusts have progressed either. He says too many are overseen by sycophantic non-executive boards, whose pride in their organisations hinders the forensic probing they were recruited to do.
Problem hunting
"If every time I went to the board here they said 'you're doing a fantastic job' I could only stomach it for about 10 minutes. I'd say to them 'well what are the problems?' The job is to find the difficulties. Too often that is seen as maybe rocking the boat a bit."
He sees dangers in foundation trusts' reluctance to step outside the national Agenda for Change pay framework. He compares running an organisation where 70 per cent of costs are fixed through a national pay framework to being "told by someone else, 'just follow this recipe'".
He says this is something "we're all going to regret" as there is now a generation of managers who have never had to tackle a workforce restructuring or pay negotiation locally.
"They have missed a trick. They should have done this two or three years ago," he says.
He says he has no doubt NHS chief executive David Nicholson is right that the NHS has to save "a big number" and worries too little ground has been prepared.
Mr Moyes has already made it clear he is not contemplating another big job in the NHS and he explicitly ruled himself out as a potential chair for a future independent NHS board - a proposal he supports.
Instead he says would be interested in work around NHS commissioning, and academia. Doubtless there will be queues of organisations eager to recruit the former banker to their board.
But he warns: "I have absolutely no intention of becoming a chief executive and getting back on the treadmill - getting up at six and going to bed at midnight. I've done that, I've enjoyed it mostly but I'm very happy at my age to stop doing that."
Moyes on…
…accusations Monitor has unfairly "raised the bar" for new foundations
"The assumptions [in the economic assessment] are tougher because the environment is tougher. We have evolved our understanding of [clinical governance] before and after Mid Staffs. Where we have identified big new questions we perhaps should have asked in the past, we're asking them now."
…Monitor's apparent reluctance to authorise trusts with large private finance initiative schemes
"To saddle a hospital with a capital development which it perhaps cannot afford is not very responsible. It's not that we're anti the PFI. But we do expose some of the strains. And we do challenge very much hospitals that are building up obligations in the form of unitary payments and not working out how to pay for it."
…the relationship between Monitor, Moyes, the DH and David Nicholson
"I just don't think the DH sat down at any point and said: 'Alright, what does this mean in practice for how we operate?' And they still haven't. There's lots that [David and I] do agree about, and equally there's lots that we don't agree about. I don't think that worries me particularly and I'm not sure it worries him."
…why finance and quality regulation should stay separate
"If you bring together quality and finance, finance will always win. If we were a unified regulator, it doesn't matter what case you are dealing with, you will always end up giving finance the priority, because managing the money is always so important."
Bill Moyes calls for DH unit to tackle 'lethargic' non-FTs
1

2

Currently reading

Bill Moyes takes pride in rocking the foundations