Trust merger follows joint chief executive appointment last year
Business case to be produced by "late summer"
Trusts plan joint rebuild after major capital project is scrapped
Two Birmingham foundation trusts have confirmed they will merge following the decision last year for them to share a chief executive.
The decision to merge Birmingham Children's Hospital and Birmingham Women's Hospital FTs was announced shortly after a £70m programme to rebuild the women's hospital was scrapped by the trust's new leadership.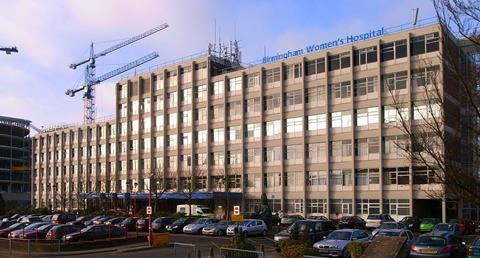 Abandoning the programme – called Project VITA – opens up the possibility of building a single new hospital for women's and children's services. The new hospital could be to the north of the city centre where the children's hospital is currently based, or to the south of the city in Edgbaston, adjacent to University Hospitals Birmingham. Redeveloping the two existing hospitals separately is also a possibility.
Under VITA, Birmingham Women's planned to rebuild many essential services including maternity, fertility and gynaecology, along with accommodation for families.
The trust spent £2.2m on VITA over the past three years. No further spending is planned.
Cancelling VITA will increase cost pressures at Birmingham Women's, exacerbating its revenue deficit this year. This is because previous spending on the project can no longer count as capital spending, as it no longer relates to a future asset, and has been reclassified as revenue expenditure.
As a result, in November's board papers the trust was forecasting a £3.4m year-end deficit, £2m worse than a month previously, mainly due to reclassifying VITA costs.
VITA was placed under review last year when Birmingham Children's Hospital chief executive Sarah-Jane Marsh took over at the women's hospital.
Birmingham Women's had previously described the project as essential to its long term viability, but HSJ understands the project – which was to be financed by a £70m loan and assumed 15 per cent cash revenue growth over five years – was found to be unaffordable.
Trust board papers reveal the decision to scrap VITA was made last autumn.
The merger plan was confirmed last month. From this month, the two trusts will begin work on an outline business case for jointly delivering women's and children's services through a single organisation, to be completed in "late summer".
Source
Press release, board papers and information supplied to HSJ