FINANCE: NHS Improvement has launched an investigation into a specialist trust in Birmingham after its finances deteriorated during 2015-16.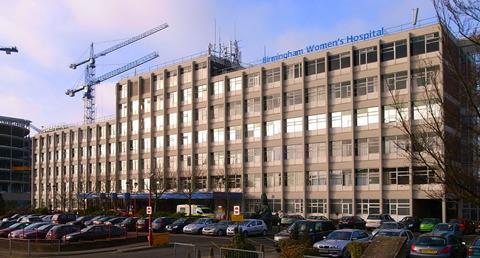 Birmingham Women's Hospital
Late in the year Birmingham Women's Foundation Trust was predicting a deficit of £3.4m. In 2014-15 the trust's turnover was £94.7m.
The trust's most recent finance report, for February, reveals that the trust was on track for a £3.8m shortfall, but was implementing a financial recovery plan to contain the deficit.
The deficit was squeezing the trust's cash position, which the report said may lead to delayed payments to suppliers.
The trust had originally planned to break even in 2015-16, and was on track until September. By October it was running a £3.2m deficit. A significant proportion of this came from a transfer of costs relating to an abandoned building project from capital into revenue budgets.
The £70m "Project VITA" was scrapped during 2015 after Sarah-Jane Marsh became chief executive of the trust. A total of £2.2m had been spent on the project.
Ms Marsh is also chief executive of Birmingham Children's Hospital. The two trusts confirmed a plan to merge in December.
Both trusts have long been planning major rebuilds. What form this will take has not yet been confirmed. A single new hospital has been considered, as have two new separate buildings.
The NHSI investigation was announced on Wednesday. It will examine why the trust's position deteriorated, what plans it has to rebalance its finances, and whether it will require extra support.
No decision has yet been taken on whether NHS Improvement will need to take action at the trust. The outcome of this investigation will be announced in due course.
The Care Quality Commission began an inspection of Birmingham Women's on 12 April.