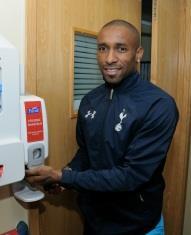 End Game salutes Spurs striker Jermain Defoe for demonstrating how hand sanitising gel should be used when on a visit to the North Middlesex University Hospital Trust.
The trust sent this amazing picture taken on a Christmas visit in which children on the Rainbow ward and orthopaedic patients were given presents by Tottenham stars.
Defoe, who has scored no league goals this season, described his visit as "better than anything I can do on the pitch".
Club manager Andre Villas-Boas found time to chat with 93-year-old Stanley Goodbody who told him to buy another striker. "We keep controlling games but don't score," the pensioner complained.
Mr Villas-Boas said: "We cannot do what the doctors and nurses do, but it is important that we support these children going through a difficult period, and their families, and it is a great experience for us, to try and help in a small way."
Sad to relate, the club was not supportive of him through a difficult time and he got the sack six days after the North Mid visit.