Jackie Bene has spent six years as chief executive of Bolton FT
Trust was rated "outstanding" for leadership earlier this year
A highly regarded chief executive has announced she will step down in March next year.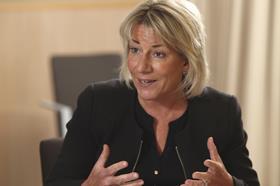 Jackie Bene has spent 26 years working at Bolton Foundation Trust, the last six as chief executive.
She has led the district general hospital to two successive "good" ratings from the Care Quality Commission, including an "outstanding" rating for leadership in the latest report earlier this year.
Dr Bene was appointed after a loss of financial control sparked a series of board level departures in 2012. The trust's finances have subsequently recovered strongly, with surpluses reported for the last three financial years.
The trust told HSJ Dr Bene has no definite plans for when she steps down.
She said in a statement: "It's been a great privilege to serve the Bolton community and a pleasure to work with all those who share our common interest. However, as the trust launches its new five-year strategy, now is the right time to hand over the baton to a new chief executive."
Bill McCarthy, the North West regional director for NHS England and NHS Improvement, said Dr Bene "lives out her values" and deserved to be rated outstanding.
The leaders of Bolton Council and Greater Manchester's devolution project also praised her approach to working with the partner organisation and the Bolton community.
Dr Bene had a spell as a trainee doctor at Bolton from 1993, before returning as a consultant in 1998. She became medical director in 2008. She has continued to practice as an acute doctor, completing weekly shifts in the accident and emergency department.
Dr Bene has twice been shortlisted for HSJ's chief executive of the year award, in 2015 and 2017.
Source date
16 October 2019