RCS review says surgical checklists not consistently followed by some senior staff
Bolton FT must reassure staff that "quality is more important than numbers"
Trust says action has been taken and checklist compliance is now "excellent"
PERFORMANCE: An independent review has raised concerns that approved surgical checklists were not being consistently followed by some senior staff at a North West trust, after a series of never events.
It has also warned Bolton Foundation Trust that efforts to maximise the use of its surgical theatres had affected staff morale, and it should "reassure staff that the trust is concerned more with quality than numbers".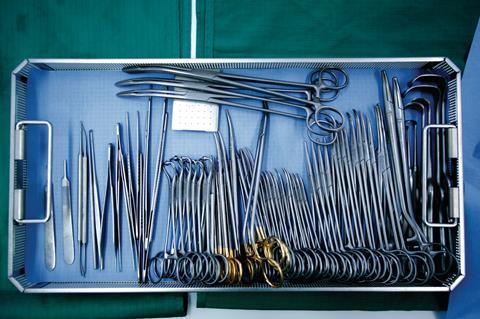 The FT asked the Royal College of Surgeons to review its services after reporting five major errors in 2014-15, and has published the findings in its November board papers
Although the RCS was impressed by the dedication of most staff, it said the review team "did have concerns that the whole World Health Organization checklist process was not being taken sufficiently seriously at all levels within the trust."
The report said there should be greater emphasis on surgeons' responsibilities, as they should be setting an example to wider members of the theatre teams.
It pointed to good practice in some areas, such as the anaesthetists' induction guide for locums in obstetrics and gynaecology, but the authors were concerned that the orthopaedic department "made little or no formal changes to the induction process of locums", despite a never event involving a temporary surgeon.
The review team was also disappointed that some surgeons failed to attend a review session, and questioned whether this was indicative of the "continuing non-engagement of some surgical staff with the WHO checklist".
A "disconnect around communication from senior management and the trust board" was highlighted, and the reviewers said the trust's focus on theatre use should take the WHO checklist safer surgery procedure into account, as well as staff break times and turnaround time.
They added: "Data on start and finishing times should be regularly reviewed to ensure that in attempts to increase the numbers of patients being treated are not resulting in patients being cancelled and staff regularly having to work late."
Trust medical director Steve Hodgson said it had looked seriously at the report and taken action to address the issues. He said the number of senior surgeons who did not always follow the WHO checklist was small, and there were now "excellent levels of compliance".
On the concerns around theatre use, he said: "Our action plan is rigorous in addressing communication issues to make sure that all staff at all levels understand that achieving the very best quality care for our patients is the highest priority for the trust."