New £30m emergency unit intended to transform the way that care is delivered
Development approved by NHS Improvement
Marianne Griffiths spells out her priorities for troubled Brighton and Sussex trust
NHS Improvement has approved £30m of new investment in emergency care facilities at a special measures trust, as part of a new initiative to reduce A&E waiting times and improve the care quality.
Royal Sussex County Hospital, part of Brighton and Sussex University Hospitals Trust, will create a new multispecialty emergency floor, as part of a long term plan to improve its urgent care services.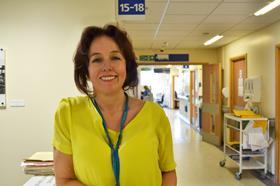 Just 80.3 per cent of the trust's patients were seen within the four hour accident and emergency target between October and December 2016, and performance has hovered around the 80 per cent mark since 2014.
The aim of the new emergency treatment and assessment unit – which will sit alongside the hospital's A&E department – is to increase patient flow and improve the safety and quality of patient care. It is based on a similar unit at Worthing Hospital, run by Western Sussex Hospitals Foundation Trust, which opened in December 2014.
The full business case for the new emergency unit, which will be fully funded by NHS Improvement, has yet to be submitted. However, the trust said the plan has been approved in principle and it is just a matter of negotiating the details of the plan, such as the number of beds, a trust spokesman said.
The investment was negotiated by Marianne Griffiths, chief executive of Western Sussex Hospitals, on behalf of Brighton and Sussex.
Ms Griffiths took over the leadership of Brighton and Sussex for a minimum of three years on 1 April.
The chair and executive directors from Western Sussex will work alongside Ms Griffiths to form an executive group, which will remain distinct and separate from the two trusts.
Ms Griffiths said the team will focus its efforts on four key areas: delivering a new A&E; moving the trust out of quality and finance special measures; progress on the trust's redevelopment project; and improving the organisation's culture.
The redevelopment project is a £486m Department of Health funded initiative to replace some of the Royal County Sussex Hospital's oldest buildings and refurbish some newer facilities by 2024.
When finished, there will be two new clinical buildings covering the front half of the hospital site. More than 40 wards and departments will move to the new buildings.
Anne Eden, executive managing director for the NHS South region, said: "This new arrangement is the culmination of much hard work by the leadership teams of both trusts, who have been determined to do the right thing for local patients. Working with Western Sussex Hospitals, and with ongoing support from NHS Improvement, I am confident that Brighton and Sussex University Hospitals has the best possible support to make the necessary, sustainable improvements that will enable them to provide the quality of services patients expect from the NHS."
Source
Trust statement and information provided to HSJ