Wycombe birth centre to close between 25 July and 31 October due to midwife shortage
Forty shifts a month unfilled with 24.8 full-time equivalent midwives having resigned or retired in recent months
Buckinghamshire Healthcare Trust says it is confident birth centre will re-open
WORKFORCE: A shortage of midwives has forced an NHS trust to temporarily close a midwife led birth centre at Wycombe Hospital to all new births, HSJ has learned.
A briefing paper from Buckinghamshire Healthcare Trust, seen by HSJ, shows the trust will close Wycombe Birth Centre to new births, which usually has around 20 births a month, so midwives can be redeployed to cover vacant shifts in other parts of the trust's maternity service from 25 July through to 31 October.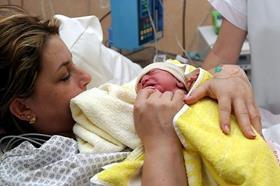 It will continue to see around 700 antenatal and outpatient postnatal care visits each month.
The paper says the trust is experiencing "an unanticipated number of midwifery vacancies". It adds: "Following a full risk assessment the clinical team have therefore recommended – as the safest and least disruptive option – that a temporary transfer takes place for the care of women who are planning to give birth at Wycombe Birth Centre."
Buckinghamshire Healthcare provides maternity services to 5,500 mothers and babies a year with a consultant led labour ward in Aylesbury and midwifery led units in Wycombe and Aylesbury, as well as a home birth and community midwifery service.
The services employ 169 full-time equivalent midwives but has in recent months 24.8 FTE midwives have resigned or retired, including 4.6 FTEs who will leave this month. The briefing says while the trust was continuously recruiting, at the end of June there were still 14 FTE vacancies.
The trust has been interviewing 24 midwives to start work from October but until then there remain 40 shifts a month that cannot be filled.
To try to fill gaps, staff have been working extra shifts and volunteering to work during annual leave and agency staff have been used for postnatal care. The trust has also cancelled study leave.
Any woman planning to give birth at Wycombe Birth Centre in the next three months will be given an alternative choice of a home birth, to use the midwifery led service at the Aylesbury Birth Centre at Stoke Mandeville Hospital, or the consultant led labour ward at Stoke Mandeville.
Author of the briefing Audrey Warren, divisional chief nurse and head of midwifery, said: "With new recruits due to start in October, we are confident that Wycombe Birth Centre will be able to recommence offering care to women in labour from 1 November."
Carolyn Morrice, chief nurse at the trust, said: "Following a full risk assessment of staffing levels, we decided that offering alternative options for the women considering giving birth at Wycombe Birth Centre was the safest and least disruptive option in order to maintain a full range of birthing choices and to continue to offer the high standards of quality and safe care for all the women we support in giving birth.
"This was a difficult decision to make and we recognise that it will be very disappointing for women who may have been considering Wycombe Birth Centre for their delivery during the next three months, and for this we are very sorry. Our team has done everything possible to keep disruption to an absolute minimum."
Source
Information provided to HSJ