Joint health scrutiny committee challenges major hospital reconfiguration proposals
Acute trust submitted full business case for £298m hospital to NHS Improvement
Commissioners say proposals are best way to save lives and improve patient care
An acute trust has been accused by councillors of "inadequate" consultation over controversial plans involving the closure of an emergency department and a new £298m private finance initiative hospital.
Calderdale and Greater Huddersfield clinical commissioning groups are proposing major acute reconfiguration under their Right Care, Right Time, Right Place programme.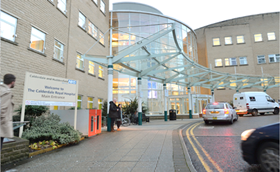 Calderdale and Huddersfield Foundation Trust, which recorded an £8m deficit at month three of this year, runs Calderdale Royal Hospital in Halifax and Huddersfield Royal Infirmary. Emergency services, including accident and emergency and a paediatric emergency department, would be centralised at Calderdale Royal under the plans. Huddersfield Royal Infirmary would close with a new urgent care centre developed on a nearby site with a 24/7 urgent care centre.
In July, Calderdale and Kirklees joint health scrutiny committee referred the plans to health secretary Jeremy Hunt for a final decision. Mr Hunt will decide whether to uphold the CCGs' decision or overturn it.
Today, the committee released its referral to the health secretary, which raised concerns over workforce, patient travel times, financial sustainability and the consultation process.
Councillors said they were not given enough time to assess the trust's full business case and a report produced by the trust and the CCGs "did not adequately address the concerns of the joint committee".
The letter said: "The joint committee would ask whether the decision to proceed with the proposals is consistent with NHS values, which aim to put the needs of patients and communities first."
The CCGs ran a formal consultation between March and June 2016.
However, councillors said they were not made aware of "significant" changes – including reducing the bed base at the new hospital site decreasing from 120 to 64 and increasing beds from 612 to 674 at Calderdale – until 12 July this year.
They said a full business case, presented to the trust's board last month, showed the only option for a new hospital in Huddersfield and enhancing facilities at Calderdale was a PFI deal.
Trust minutes acknowledged "a great deal of concern" over the proposals so it published its full business case, produced with support from NHS Improvement, NHS England and the Department of Health, without redaction.
However, the committee's letter said there was "inadequate" consultation over the case and it had not received assurance that the proposals were financially sustainable.
While the latest proposals said the trust would achieve a surplus after 2024-25, the committee said it had no information over how this would be achieved.
Trust chief executive Owen Williams said: "The full business case developed by the trust and submitted to NHS Improvement clearly articulates the financial case and sets out how we will seek to achieve a surplus position by 2024."
In a joint statement, the CCGs said: "We await the secretary of state's decision.
"Meanwhile, Calderdale and Greater Huddersfield CCGs, along with [the trust], will continue to plan for changes to hospital and community health services pending the outcome of the referral process."
Source
Letter of referral; CCG and trust statements; trust board papers
Source date
14 September 2017