The previous chief executive of Oxford University Hospitals FT has been appointed to provide independent oversight of plans for a "single hospital service" in Manchester.
Sir Jonathan Michael will undertake the work for Central Manchester University Hospitals FT, University Hospital of South Manchester FT and Pennine Acute Hospitals Trust.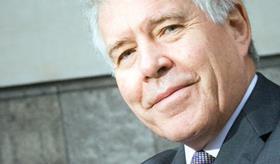 The trusts have agreed to draw up plans for a "comprehensive range of clinical single services", after commissioners threatened to tender services if satisfactory plans could not be agreed.
They said Sir Jonathan, also a former chief executive at University Hospitals Birmingham FT and Guy's and St Thomas' FT, is "eminently qualified" for the role of independent review director.
He retired from Oxford University Hospitals last year.
Meanwhile, the Manchester trusts are seeking approval from regulators to procure consultancy support for the work, according to CMFT's January board papers.
The plans are intended to go beyond those already agreed for emergency services under the Healthier Together programme.
Source date
11 January 2016