Academic health science networks can provide the health service with innovation from the ground up. Jennifer Trueland reports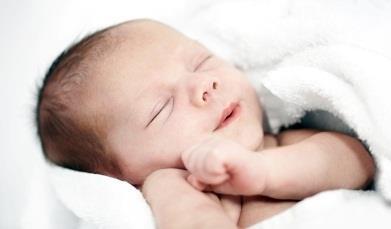 Academic health science networks have the potential to transform health and care by putting innovation at the heart of the service. That was the aim of Sir David Nicholson, then the chief executive of NHS England, when he confirmed the designation of 15 AHSNs in May 2013.
Working in collaboration with all parts of the NHS, academia, industry and others, AHSNs have a five year licence to create a step-change in the way the NHS identifies, delivers and adopts new technologies.
'Some of the best ideas come from people who are working with patients, and from patients themselves'
And, say their leaders, this cannot be achieved through top-down change.
"Innovation isn't an elite sport," says Rachel Munton, managing director of East Midlands AHSN.
"Some of the best ideas come from people who are working with patients, and from patients themselves. It's about seeing what works and having the opportunity to give good ideas a go."
Small beginnings
Although the AHSN is relatively new, she can already point to ideas that have been given a boost by the power of the network. Projects include creating videos to help new users adapt to hearing aids, and bilingual smoking cessation help targeted specifically at the Polish speaking population.
"Both ideas are spreadable by the AHSN," says Professor Munton. "They might sound like small things, but sometimes people underestimate small things."
As well as its ability to share good practice throughout the system, the AHSN also has a practical role in providing business start-up support and project management expertise.
The business of getting innovation into practice is not necessarily speedy, however, and the AHSN concept is not a panacea. "Adoption of innovation tends to be sluggish. There's a time lag," she says. "I don't think waving the AHSN as a magic wand will work in itself. But it does help in many ways, including helping people to make connections.
"If you look at the organisations that are involved - including universities, the NHS and others - then it's a formidable combination."
Oxford AHSN can also point to innovations from the front line that are already making waves. Chief operating officer Paul Durrands stresses that clinical innovation adoption is one of the network's four main objectives, and arguably the most important.
"It's about improving outcomes, patient safety and experience, and the efficiency of the service," he says. "But it's also about wealth creation.
"For industry, the UK has a reputation of being low and slow [paying low prices and taking a long time to implement].
"If we want a wonderful [health] service, we have to encourage industry to work in partnership with innovators."
'The AHSN is not about top-down, we tell you what to do – it has to be about bottom-up'
Again, Oxford AHSN can point to multiple examples of bottom-up change in its patch. Innovation adoption manager Sue Ikin cites a project to support pregnant women with gestational diabetes - the brainchild of consultant obstetric physician Lucy Mackillop. Mothers to be use a smartphone app with a Bluetooth enabled blood glucose meter to give real time readings. It also provides alerts when action needs to be taken.
Feedback suggests users feel more in control, and it also saves on unnecessary clinic visits, Dr Mackillop explains.
"It's already been rolled out at different hospitals but there are plans to roll it out to every hospital in the region," she says. "The clinicians see the value in it and so do the pregnant women. It's an example of where someone has come up with an idea and we've been able to support rapid deployment."
The network has been proactive in asking member organisations, and those who work in them, what is important to them. It also facilitates conversations between different organisations or people who can then form relationships that make things happen.
"Sometimes you can get as much impact from hooking the right two people up as you can by spending hundreds of thousands of pounds on a programme," says Dr Durrands.
"The AHSN is not about top-down, 'we tell you what to do'. It has to be about bottom-up," says Ms Ikin. "You're not going to get lasting change by forcing people to do things. You have to get innovation adoption baked in."
Case study: The simple but ingenious patient safety initiative
East Midlands Academic Health Science Network has been instrumental in helping implement a simple idea that could have a huge impact on patient safety.
As a newly appointed consultant in the respiratory team at Derby Hospitals Foundation Trust, Gillian Lowrey was given an interesting challenge. To comply with national guidelines, she was tasked with finding a way of making sure patients were given the right amount of oxygen.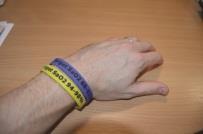 Her solution - inspired by the wristbands supplied by charities to show support - was to develop different coloured wristbands to help identify how much oxygen a patient needed.
The idea was so simple, and yet so ingenious, that it was recognised in the East Midlands Innovation in Healthcare Awards, where judges described it as "a novel invention that has the potential to save lives in hospitals throughout the country".
An East Midlands AHSN initiative, the awards have helped propel Dr Lowrey's invention into new realms, raising its profile and spreading awareness and uptake beyond the immediate locality.
As well as the publicity garnered locally for the award, the prize included £2,000 to help take the invention further, and Dr Lowrey and her team are using it to get the bands adopted more widely.
"This is a real bottom-up initiative because it's come from people working at the front door," she says.
"Since winning the AHSN prize, we've been working on rolling the idea out further. It's given us the opportunity to reach places we probably wouldn't have done."
Partnership and collaboration
Encouraging partnership and collaboration is also a priority for Natasha Swinscoe, director of development for West of England AHSN.
She believes the work being done now provides a good foundation for the future. "If we don't continue after our five year licence, I hope our legacy would be improved partnership working across acute trusts, mental health, community care, [cllinical commissioning groups] and everyone else," she says.
'One of the reasons that AHSNs exist is to put innovation into practice'
"I also hope we're creating more capacity for making change and improvement in terms of training - for example, having an impact on staff across the West of England."
The AHSN is also working on the here and now, helping to drive change and encourage a culture where improvement is seen as the norm. "One of the reasons that AHSNs exist is to put innovation into practice," Ms Swinscoe says. "We're just about to go into our second proper year, and I think we can already see good examples of where that's happening."
She cites a project to improve the processes of giving magnesium sulphate to premature babies to reduce the risk of cerebral palsy, which came about because of an effort to put existing evidence into practice. "The long term impact of that is immense, both on the baby and family, but also in health services," she says. It has been rolled out across all five obstetric units in the region.
West of England also has a project to identify patients in the emergency department at risk of deteriorating. Called the Southwest STAR, it is being run by a team from University Hospitals Bristol Foundation Trust, and has involved developing a checklist (based on experience with patients) that encompasses safety, assessment and triage, and an IT application that helps staff place patients in the most appropriate beds.
The early warning score is now being spread throughout the region and has already won a Health Foundation Award.
Looking outside
AHSNs can also open up opportunities across a wider area. "The NHS is incredibly busy - doing something across the network is challenging," Ms Swinscoe says. "Looking outside [your own clinical area] is difficult if you don't have the headroom."
Chris Streather, managing director of the Health Innovation Network (the AHSN for south London), agrees: "It can be difficult to look outside your own silo but, when it comes to meeting today's challenges, that's what's going to work."
The networks uniquely cover every element of the system, and are particularly well placed to bring academic rigour to bottom-up change.
Mr Streather points to three initiatives in particular where the AHSN has played an important role in helping spread innovation from the front line. One is a diabetes collaboration between commissioners, providers and industry partners to improve diabetes care.
'We're creating a cohort of change-management literate leaders, which is good for the future'
Another, ESCAPE-knee pain, is a project to enhance management of osteoarthritic pain. It has now been rolled out to south London CCGs.
A third programme identifies and nurtures best practice around staff health, and has been promoted through a variety of channels, including social media.
"I'm an enthusiastic ex-Luddite about social media," he says. "We had a Twitter chat about staff health and our reach for that was about 400,000 people. You'd never get that by having an event."
Mr Streather is also keen to build capacity for the future, citing the network's fellowship scheme, which helps the individuals involved, but also adds academic expertise and real time evaluation to the work of the network, he says.
"It means we're creating a cohort of change management literate leaders, which is good for the future," he adds.
The networks will never be the sole answer to all the challenges facing the NHS, but they are certainly contributing, he says. "AHSNs may only be a part of the solution about cross-system working, but it's an important part, and we're already making a difference."