Health secretary Matt Hancock says it's "abundantly clear" that NHS staff feel undervalued
Vows to tackle bullying and harassment of staff
Stresses the crucial role that technology and artificial intelligence will play in healthcare
Says "I love the NHS and will always believe in it"
New health secretary Matt Hancock, who took over the role from Jeremy Hunt this week, sets out his stall to the NHS in an exclusive editorial for HSJ.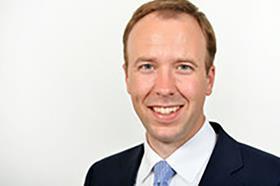 Britain can be proud of many institutions we have built through history, but the one that makes me most proud is the NHS. Seventy years ago, as a nation we said healthcare should be free at the point of use, according to need not ability to pay. I cherish that notion profoundly now as the founding fathers did back then.
I believe that the ability of a society to care for the health of each and every member is a mark of our civilisation. So it was a deep privilege to be asked to become the health and social care secretary at this critical point in the history of both the NHS and our social care system.
The doctors, nurses, porters, managers, leaders and other care workers are the people who underpin our great NHS and without you, we would have nothing. I have a message for you: I will work with you, I will back you and I will make sure you have the long term plan you need. Every single person who works in the health and social care system – of every rank – has a part to play in improving the health of our nation.
While we have rightly spent the last few weeks celebrating the National Health Service at its 70th birthday, and looking back at its amazing achievements, my job now is to look forward. Some things are very clear to me already, as a patient, from friends and family who work in the NHS, from my experience working in government and representing my West Suffolk constituents.
On my first day in the job I visited University College Hospital [in London] to meet NHS staff at all levels and hear first hand the challenges they face.
Two things are abundantly clear: firstly, how hard NHS staff work. And secondly, how people feel undervalued.
People choose to work in the NHS because they are driven by a desire to improve their fellow citizens' lives; to care for those they don't know. I want to ensure this mission and public service that motivate people to go into the NHS as teenagers stays with them until the day they leave it.
Two things are abundantly clear: firstly, how hard NHS staff work. And secondly, how people feel undervalued.
I understand that sense of service. It is rewarding. But it can't be taken for granted either. I am determined to ensure duty is rewarded by the sort of system people deserve. That means taking on issues like bullying and harassment, recruiting and retaining staff and improving options for flexible working.
And while I am very much driven by the 70 year old founding principles of the NHS, delivering this mission also means I am determined to seize the opportunities of the modern age we live in. Technology has a proven ability to radically change the world for the better – be it in finance, in education and in transport. But nowhere does technology have greater potential to improve lives than in healthcare.
I've seen it for myself. Artificial intelligence can help spot early stages of cancer, giving patients a better chance of survival. Algorithms will be able to organise and analyse medical records, so frontline staff can spend more of their valuable time dealing with patients not writing on paper.
I've learned working on digital transformation across the public sector that it doesn't always go to plan.
Those worried about stress, anxiety or more serious issues can now go online, check their symptoms and access digital therapy immediately rather than waiting weeks for a face to face appointment. Intelligent use of data can improve social care rotas so carers can spend more time with those in their care. And apps can monitor patients as they leave care and alert doctors or GPs if there are any problems that arise.
Of course we've got to get it right. I've learned working on digital transformation across the public sector that it doesn't always go to plan and it must be driven by the needs of the user. But it doesn't have to be top end tech. I've seen how tracking devices can reduce the time needed to ensure the right patients are in the right place at the right time.
As the inspiring nurse who showed me the system at UCLH said, it cuts down his time spent moving patients by a quarter, giving him more time doing the thing he went into nursing for: to care for patients.
To me this underlined the fundamental point: using the best of modern technology must be done in a way that improves care, makes money go further, and makes life easier for staff.
I am determined that these decisions will not boil down to a zero sum game between the demands placed on staff and the outcomes for patients. Because we will only get the improved NHS outcomes we seek when we release the full potential of the people who work in it.
I am optimistic we can do that. Because the NHS and the principle of a healthcare system that is free at the point of delivery is one of our country's greatest achievements. I love the NHS and I will always believe in it. And as health and social care secretary, I promise I will listen and learn and work with you, and will do everything I can to defend you and champion all the hard working staff who make our NHS what it is today.


Matt Hancock is the secretary of state at the Department of Health and Social Care.