Whistlebolowers gather for a picnic, while fistbumps are hailed as top dog for hygiene, terminally ill patients get their own wine bar for last orders and breastfeeding keeps the NHS in the good books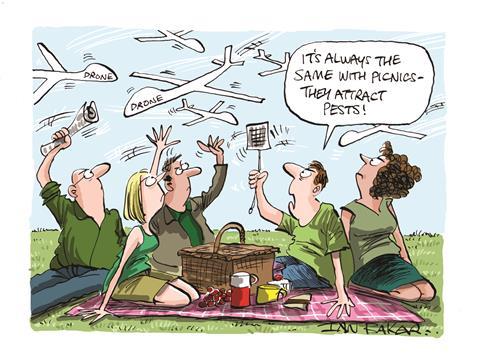 The outspoken venture outdoors
End Game was disappointed not to make it to St James' Park in London a couple of Saturdays ago for the whistleblowers' picnic.
'Picnickers were asked to wear green, presumably not as camouflage to hide from GCHQ'
The gathering of those who believe they have been wronged, ignored and victimised promised to be a jolly affair, with the poster inviting attendees of the friends and family picnic to "laugh a lot".
The event was organised by The Whistler – a worthwhile coalition of Cure the NHS, Compassion in Care, the Courage Foundation and the Centre for Investigative Journalism.
Picnickers were asked to wear green, which End Game assumes was a handy way of locating fellow truth tellers in a busy park, not a form of camouflage to hide from Government Communication Headquarters' prying satellites.
Having said that, The Whistler recommends on its website that when those with sensitive jobs contact them for support, they should not do so on a phone they have used before. They should even consider buying a second hand one from a "car boot sale or such like". You can never be too careful these days.
Fist bumps get the thumbs up
End Game was astounded to hear of potentially the most important medical discovery since Watson and Crick identified the structure of DNA: fist bumps may be more hygienic than handshakes.
Scientists from Aberystwyth University made this astonishing breakthrough by spreading a thick layer of E. coli bacteria over rubber gloves and exchanging handshakes, high fives and fist bumps.
'Perhaps bowing and curtsying will soon catch on in hospital wards across the country'
They found the formal handshake transferred the greatest proportion of bacteria. This reduced by more than 50 per cent when they high fived, and was a whopping 90 per cent lower when exchanging Obama style fist bumps.
Senior lecturer Dave Whitworth, who carried out the study, said: "People rarely think about the health implications of shaking hands.
"If the general public could be encouraged to fist bump there is genuine potential to reduce the spread of infectious diseases."
Peter Hoffman, an infection control expert at Public Health England, went even further.
He told the BBC: "The ultimate approach to avoiding germs would be if we went back to the Victorian age, when on meeting someone you would bow or curtsy from a respectful distance – no germs there!"
Perhaps bowing and curtsying will soon catch on in hospital wards across the country.
Last orders
Politicians and health bodies on the look -out for ways to improve patient centred care might want to take note of the hospital in central France looking to open a wine bar for patients who are terminally ill.
The head of Clermont-Ferrand University Hospital has said the aim of the venture was to "cheer up the difficult day to day existence of patients" and to offer them "moments of conviviality".
Such heart-warming attention to the care pathway can only be applauded. However, End Game finds it difficult to picture white coated consultants on this side of the Channel giving prognoses over a glass of claret any time soon.
Breast is best
The health service passed an unenviable milestone in June when the number of patients on the English waiting list topped 3 million for the first time in six years. It's therefore a relief to hear that in such tough times the NHS is also notching up more positive records.
At the beginning of the month a team from the Heart of England Foundation Trust, together with 19 local mums and bubs, took part in the "Big Latch On 2014" – a global attempt to break the world record for the most women breastfeeding simultaneously.
Apparently it's still too early to say whether the 2013 record of 14,536 latches was beaten, but we applaud the effort to promote breastfeeding.
Less commendable was the groan worthy headline that topped the trust's press release: "Solihull mums learn how to be simply the breast for global record attempt."
Booze cruise boo-boo
The troubled East of England Ambulance Service Trust has come under fire again – this time for hiring a manager who once took a trust vehicle out for a "booze cruise".
Paul Leaman was suspended by his trust for 12 months in 2009 after it emerged that he used an ambulance to travel to France to buy alcohol.
He was appointed assistant chief executive of the trust in January – to the consternation of Labour's prospective parliamentary candidate for North Norfolk, Denise Burke.
She told local papers: "It is surprising to hear that Paul Leaman has the title of assistant CEO, and this [incident] has really not come to light or [been] made public. There seem to be questions over his role and how transparent the recruitment was."
The trust insists his role is temporary, he won't sit on the board, and he won't be deputising for the chief executive.