Sir David Nicholson is feeling peachy, while End Game zeros in on the big numbers amid talk of a 100 feet tall nurse and a century of new mutuals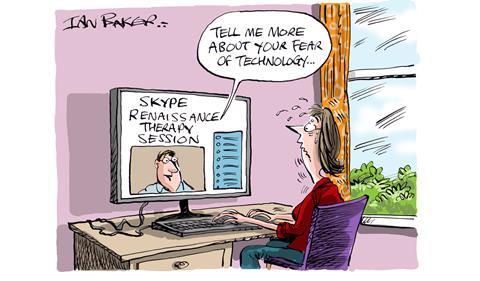 The wonders of modern technology
End Game loves a bargain, so when Renaissance Life Therapies dropped us a note about their new "sale price" therapy sessions, we punched the air with joy and exclaimed: "By crikey! Those selfless souls of Harley Street have done it again!"
Renaissance is now offering patients the opportunity to see one of its therapists – who cover a range of conditions from depression to anxiety management – from the comfort of their own home via Skype or telephone for the bargain basement price of £70 a session.
The life coaching practice is far too modest to say how much it costs for a conventional session but we'll take their word that this represents a jolly good snip.
While Freudian psychoanalysts often ask their patients to "lie down on the couch", End Game can only assume that Renaissance therapists now ask their clients to "lie down on your couch".
Sir David Nicholson: fashion icon
The phenomenon that is Sir David Nicholson's Twitter feed continues in its relentless drive to offer up nuggets of wisdom, wit and whimsy.
His latest Proustian contribution – presumably posted from his local caff – offers a glimpse of the knight's next incarnation: as a fashion icon.
The tweet in question? "Kidderminster cappuccino reflecting on whether I should have a gastric band fitted then off to Next to pick up a pair of peach chinos."
Nursing giant cut down to size
Some of the senior figures in nursing can get a bit sniffy about ward legend Mary Seacole.
'Howls of outrage from the tabloids would echo throughout the land'
Yes, they agree the 19th century Scottish-Jamaican nurse is a titan in the history of nursing, but must we bang on and on about her?
She's almost as overexposed as Florence Nightingale.
Imagine their distress upon learning recently in the South London Press that a 100-feet statue of her had been commissioned!
Such a statue would dwarf most hospitals and stand two feet taller than the Colossus of Rhodes.
Howls of outrage from the tabloids would echo throughout the land. "With the money spent on this enormous nurse the NHS could have employed 10 human sized nurses – excluding pension costs and Agenda for Change," they'd write.
Finance directors would look ruefully at the construction and wonder if it wasn't perhaps symbolic of a government determined to swell nurse numbers in response to the Francis inquiry, regardless of whether a more cost effective skill mix could be safely achieved.
Sadly, none of this is to be.
The paper had merely added an inadvertent zero to their description of the 10-feet statue.
Mutuals on the march
End Game is a strong believer in the principle of mutualism.
However, we could not help but be intensely irritated by an apparently coordinated decision made by the public relations functions at the Cabinet Office and the Department of Health to boast about the virtues of mutualism.
Tweeters were treated to a day of guff under the hashtag of #100mutuals celebrating the, erm, 100 mutuals that had been spun out of the government.
They employ 35,000 people, with 3,000 of those jobs being created in the past year alone, we learned.
Not new jobs obviously, just a transfer from one sector to another, and never mind the fact that Cabinet Office minister Francis Maude said three years ago that he wanted there to be a million public servants working in mutuals by the end of the Parliament.
That was always mad, so we won't harp on about it.
What disturbs us is that too many of the NHS mutuals are on the periphery of the service - we are still waiting for a clear signal that mutuals can operate at the core to provide a truly essential function.
Might Richmond House set the example?
We suggest that the DH press office leads the charge and forms a social enterprise since they obviously think it's such a brilliant idea.
Leicestershire shoots for the stars
Any attempt to get young children to live healthier lives is always to be encouraged.
'This innovative scatological learning tool could have wider applications for hospitals '
End Game would like to salute one particularly imaginative web based effort from Leicestershire Partnership Trust.
It has begun encouraging kids to learn about healthy living through playing online games.
Our favourite is The Mighty Poop Shooter, where players have to stop an alien from becoming constipated by clearing up food in its belly.
Successful poop shooters collect "poo points".
Perhaps this innovative scatological learning tool could have wider applications?
Regulators could issue each hospital with its own "poo points" rating based on the quality of its food.
Those found wanting would receive a visit from a team of feared poop shooters. That'd teach 'em