If End Game readers are ever unfortunate enough to need an ambulance in the North West region, they can be assured the staff will be properly dressed from head to foot - as North West Ambulance Service has just decreed that ambulance crews cannot wear novelty socks.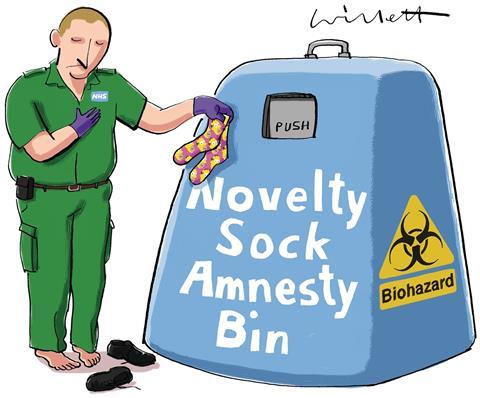 Feet first
Those Homer Simpson and Hello Kitty socks, which End Game now assumes are the normal apparel of all NHS staff, will now have to be discarded in favour of plain dark ones.
Director of organisational development Jon Lenney told the Liverpool Echo: "We would expect our staff to wear uniforms provided and do not feel that novelty socks with slogans and images are appropriate for presenting a professional image to patients and members of the public."
Discussing the policy document containing the ban on novelty socks, Mr Lenney said: "This important policy was initiated in response to the recent Care Quality Commission inspection in relation to healthcare acquired infections."
Quite how infectious ambulance staff socks are - and how they come into contact with patients - is best left to the imagination.