A survey into how restorative dentistry is paid for has found wide disparity in the funding of the service in the UK, which leads to variations in the service provided, note Ulpee Darbar and Ishpinder Kaur Toor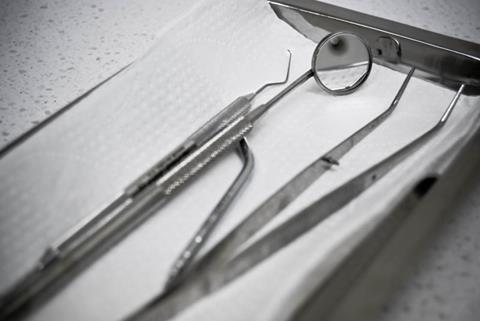 Restorative dentistry involves the oral rehabilitation of patients requiring complex, multidisciplinary and integrated care and embraces the specialities of periodontics (gums), endodontics (root canals) and prosthodontics (crowns, bridges and dentures).
Patients are managed via a team approach within hospital settings (also known as secondary/tertiary care providers) with teams from different dental and medical specialities being involved in their care. As life spans increase and teeth are retained into old age, the complexity of restorative dental care needed has risen, underpinned by the increased comorbidities seen in an ageing population.
Added to this, advances in improved understanding of oral disease pathogenesis have led to younger age groups also being diagnosed with oral and tooth related conditions that are inherited/acquired, resulting in management challenges that progress from a young to old age.
These issues have affected the costs of delivering high quality restorative care and access to treatment is imperative as the negative impact of oral disease and tooth loss on quality of life has already been established.
Funding arrangement
The funding arrangements for restorative dentistry are determined by local agreement with the commissioners who purchase healthcare. The number of patients seen and the type and extent of treatment that can be provided is also determined by the funding agreement in place.
Unlike most other medical specialities, where the funding is based on nationally agreed tariffs through the Payment by Results system, the funding for restorative dentistry sits out with this system, with a lack of clarity and national agreement as to how this funding is determined.
Unlike most other medical specialities, where the funding is based on nationally agreed tariffs through the Payment by Results system, the funding for restorative dentistry sits out with this system
In some regions, commissioners have chosen to operate an "Individual Funding Request" system whereby a specific request has to be made for every single patient for any restorative dental treatment for funding.
This system is time consuming, leading to delays and dissatisfaction amongst clinicians and patients in timely and appropriate management of their problems.
Survey
Based on concerns raised by its membership, Restorative Dentistry-UK undertook a questionnaire based survey of providers of restorative dentistry (both teaching and district general hospitals) to ascertain the extent of the variation in local funding agreements and to gauge their opinion about the funding of their service.
The findings of the survey are summarised in the below figure.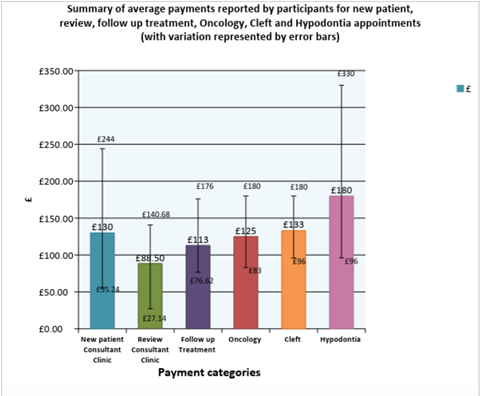 The results show the range of funding with new patient consultation ranging from £244.00 to £55.24, with a similar variation noted for review and reassessment tariffs with new patient tariffs being 32 per cent higher then reviews and 13 per cent higher than reassessment.
Some units have different tariffs for patients diagnosed with cancer (oncology), inherited conditions, for example, hypodontia (missing teeth) and clefts. A separate fee for review and follow-up appointments was noted, with ambiguity as to how a "review" differs from a "follow-up". Seventy six per cent of the responders indicated that they did not feel that the agreed tariffs reflected the true costs of their service.
The RD-UK survey is the first of its kind to demonstrate the wide variation in the tariffs agreed by commissioners with provider units of restorative services across the country, leading to disparity amongst providers in the service they can deliver. This inconsistency in turn, impacts on the delivery and patient acess to high quality restorative care.
Tariffs
Restorative dentistry services have historically been priced into two main categories; new patient appointments and follow-up appointments, with the latter including all treatment episodes as well.
Given the complex nature of restorative treatment, if these episodes are being funded as follow-up appointments, hospitals providing restorative dental services are not adequately recouping the cost of delivering this care.
Teaching hospitals have resorted to using "service increment for teaching funding" allowances to underpin the cost of the service and in district general hospitals the restorative service costs are often underpinned by other services, such as oral surgery/orthodontics, both of which are PbR banded.
It is imperative for NHS England to consider nationalising the tariffs for restorative dentistry for all categories in line with the payment by results system of remuneration for healthcare
In more recent times, provider units of restorative services have been using the OPCS coding for treatment episodes to generate the correct tariff for treatment. However, these link into Health Resource Groups which tend to be outdated and do not reflect the full cost of delivering treatment.
It is important to highlight that the reason for the existence of such insufficient payment systems for restorative dentistry is also partly due to the scope of the speciality also being poorly understood by the purchasers and hospital based contract negotiators, with most equating the level of intervention to that of high street dentistry.
The call for action is clear, necessary and timely and it is therefore imperative for NHS England to consider nationalising the tariffs for restorative dentistry for all categories (first (new) patient attendances, follow-ups, day case surgery and treatment episodes) in line with the PbR system of remuneration for healthcare.
The figures from this survey could be used as a starting point for deriving nationally agreed restorative tariffs. This would ensure that the provider unit is able to recover the true cost of providing the service and hence allow all patients to have equitable access to high quality restorative dentistry.

Ulpee Darbar is consultant in restorative dentistry at UCL Eastman Dental Institute and the chair of Restorative Dentistry-UK. Since, taking on the role of chair almost four years ago, she has implemented various initiatives that highlight the challenges faced by restorative clinicians. She also holds leading roles in education and training.