To achieve high throughput specialist multidisciplinary surgery – and to ensure the new cancer strategy aligns itself to all specialist cancers – new models of care will be required, write Vijay Sangar and Chris Harrison
Achieving World Class Cancer Outcomes – a strategy for England 2015-2020 outlined 96 recommendations for NHS cancer services. The increasing incidence of cancer, healthcare inflation and use of new technology, alongside the need to implement the strategy, will incur significant costs.
However, investment in some intiatives will contribute to potential efficiency savings. Health service costs can accelerate in the realms of multispeciality care for specialist conditions, which may seem difficult to align with the strategy for England. Designing intiatives for service design in more specialist settings can help productivity.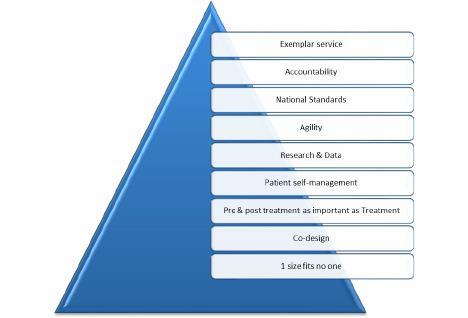 There are a significant proportion of patients that, despite earlier diagnosis and prevention initiatives, will present with advanced cancer.
These particular cancer patients can require a multidisciplinary approach throughout their pathway. Examples of such cases are shown below.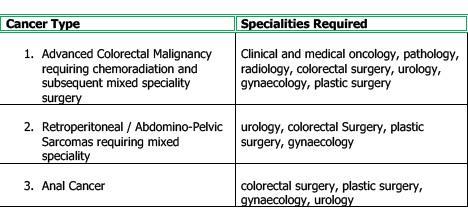 Aligning diverse specialties requires significant investment in time and infrastructure. For example, a patient with anal cancer requires close collaboration medical/clinical oncology and surgery, as timely treatments can affect outcomes.
Centralised services
These patients may subsequently require operations such as a total pelvic clearance (which includes removal of the bladder, prostate, anus and/or rectum with reconstruction of the urinary system with an ileal conduit, formation of colostomy and reconstruction of the perineum), requiring close working between a colorectal surgeon, a plastic surgeon and a urologist.
This surgery can take up to eight hours to complete and requires significant input from anaesthetic/critical care teams, and perioperative input from experienced clinical nurse specialists and advanced nurse practitoners.
For this kind of multidisciplinary care to be undertaken in significant quantity requires centralisation of some specialised services. Outcomes related to this type of surgery can vary, dependent on whether a team approach is undertaken.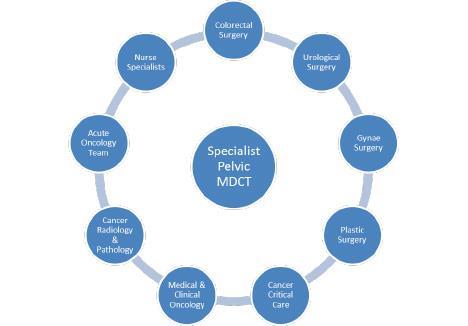 Pic 2
Interlinking of the specialist pelvic multidisciplinary cancer team
Data from international audits of pelvic exenterative surgery have shown that mortality can be as high as 5 per cent, with inadequate resections occurring in up to 40 per cent of individuals. In many of these cases, delays in treatment and lack of experience can have significant effects on outcome parameters.
In some hospitals the model of care provided includes a multidisciplinary team approach but in a significant number of cases this will include the home tumour site team only eg anal cancer being discussed in a colorectal MDT. This approach requires the home tumour site surgeon to make subsequent communications between one and three specialties to align appropriate theatre times. Scheduling surgery would usually require cancellation of other speciality theatre lists and clinics, which has a significant impact on productivity.
Complex communications
The second model of care is to have high throughput units undertaking surgery with the appropriate specialties being job planned/timetabled to undertake joint working/MDCT meetings/operating at specific times during the week.
This allows patients to be placed directly on to MDCT meetings where all appropriate specialties are present, hence reducing complex communications, multiple MDT placements, multiple clinic appointments, and subsequent cancellations of activity to accommodate MDT surgery. The model requires the following:
A multidisciplinary cancer team for pelvic and abdomino-pelvic tumours, which should include the colorectal surgeon, clinical and medical oncologists, pathologist, radiologist, clinical nurse specialist, urologist, gynaecologist and plastic surgeon
A streamlined referral system (electronic) to the multidisciplinary cancer team meeting
Regular job plan sessions for each specialty to work collectively
An enhanced recovery programme
High throughput cancer critical care unit
Acute/urgent oncology assessment teams

The Christie Foundation Trust has a well-established specialist pelvic MDCT. The surgical element of this service has the following consultant staff:
Gynae oncology (four surgeons) (G)
Urology (four surgeons) (U)
Colorectal surgery (seven surgeons) (C)
Plastic surgery (4 surgeons) (P)
These surgeons work in parallel and in joint operating sessions, which allows multidisciplinary operating in a way which guarantees efficient pathways. The activity over 2015 showed approximately 200 cases required specialties within the pelvic multidisciplinary cancer team to operate together. In the majority of cases the combinations of specialists were colorectal, gynaecology, urology and plastic surgery. The table above shows how employees can be utilised by job planning to work collaboratively within rolling rotas.
Specialist cancer services designed in this manner continue to evolve with the introduction of innovative systemic therapies/ targeted agents and surgical technology. Much of this can result in new, sometimes unfamiliar and unexpected side effects. It is apparent that patient safety and good outcomes within this arena require dedicated teams who are able to identify events and act promptly.
In some international centres this has resulted in the development of acute oncology services, dedicated to urgent/emergency oncology treatment related issues, eg MD Anderson. This is seen as a necessity in the modern cancer world and has been replicated in the UK at The Christie, which has developed an acute oncology assessment unit with dedicated physicians/surgeons and nurses working 24/7.
In order to deliver high throughput specialist multidisciplinary surgery, new models of care such as the above will be needed at a supra-regional level. This will ensure the cancer strategy aligns itself to all types of specialist cancers, whilst maintaining productivity.
Vijay Sangar is director of surgery, consultant urological surgeon and honorary senior lecturer, and Chris Harrison is executive medical director at The Christie Foundation Trust