Lord Carter has thrown down the gauntlet to pharmacy departments to improve services and drive efficiencies
The long-awaited NHS efficiency review left no stone unturned when it came to recommendations affecting all areas of current hospital operations, generating headlines focusing on the totally inefficient use of space, to outdated staff shift planning.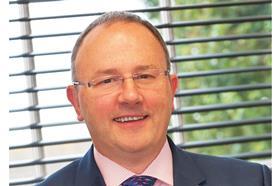 However, the final report and recommendations of Lord Carter's review on improving productivity and performance of the NHS in England, which sets out a blueprint for the 'model hospital', also includes some challenging improvements for pharmacy departments to address.
And with the current NHS bill for medicines standing at an eye-watering £6.7bn, improvements in medicines management will deliver significant savings, as well as a reduction in errors and improved patient care.
Transforming services
One of the main aims of the new model is to allow pharmacists and clinical pharmacy technicians to spend more time on front line, patient facing activities to improve medicines optimisation.
'Some of the recommendations will be harder to achieve than others'
By April 2017, each NHS trust should have undertaken a hospital pharmacy transformation programme (HPTP) to develop plans to increase pharmacist prescribers, electronic prescribing and administration, accurate cost coding of medicines, and consolidate stock holding by April 2020.
Underpinning this, the review sets out a set of clear recommendations in terms of what the hospital pharmacy of the future needs to look like in terms of governance, reporting and stock control:
Each trust board must nominate a director to work with their chief pharmacist on the implementation of the changes identified;
80 per cent of the NHS pharmacist resource to be utilised for medicines optimisation activities, medicines governance and safety;
Moving prescribing and administration from traditional paper charts to electronic systems;
Ensuring the coding of medicines, particularly high cost drugs, is accurately recorded within NHS reference costs;
NHS Improvement to publish a monthly list of the top 10 medicines with cost saving opportunities;
NHS drug prices to be benchmarked to ensure they are competitive;
Medicine stock-holding to be consolidated and the supply chain to be modernised with the aim of reducing stock holding days from 20 to 15, deliveries to less than five per day and ensuring 90 per cent of orders and invoices are sent and processed electronically;
NHS Improvement to identify the true value and opportunity for rationalisation and integration of hospital pharmacy procurement and production.
Change in any organisation is difficult, but for some NHS trusts, this will mean a fundamental overhaul of the way they currently manage their hospital pharmacies.
'There is nowhere to hide in terms of demonstrating clear improvements'
The accountability and reporting that are driving these changes will mean there is nowhere to hide in terms of demonstrating clear improvements to the way medicines are managed.
So, what will be the most difficult elements to achieve?
Some of the recommendations will be harder to achieve than others, particularly because hospital pharmacy departments typically get involved with all aspects of managing medicines and, in some cases, this includes specialist medicine manufacturing.
Streamlining demand
Better performing trusts have been able to streamline their demand for such services while reducing waste and drug expenditure.
However, focusing on the medicines optimisation role will be a difficult transition for most trusts, as they will have to manage the change and upheaval involved in outsourcing or the fundamental reconfiguring of ways of working within pharmacy departments.
'There is a long term trend towards outsourcing more of pharmacy services'
Those responsible for managing NHS hospitals should look to the practices that the independent sector has already employed to help deliver the improvements required in this critical area of hospital operations.
There is already a long term trend towards outsourcing more of pharmacy services, which is one of the recommendations of the Carter Review.
Outsourcing services
Currently, in NHS hospital pharmacies, 55 per cent of pharmacy staff time is spent on infrastructure services, which include the procurement and supply of medicines compared with around 5 per cent in the independent hospitals that we work with.
Utilising non pharmacy staff or outsourcing the supply of medication could free up the time of the hospital's pharmacy staff to focus on clinical activities.
'The buying of medicines can be done far more efficiently by non-pharmacy staff'
In particular, the buying and distribution of medicines can be done far more efficiently by non pharmacy staff, freeing up clinical pharmacy staff to spend more time on promoting the best use of medication and driving improvements in medicines management, thanks to better reporting and quicker identification of errors.
Stock holding of medicines is another key area of focus and varies between 11 and 36 days for trusts, with 20 days being the average.
This compares with an average of 18 days that has been achieved in many of independent hospitals, based on our experience.
Significant challenges
If all NHS hospitals can achieve the 20 days stock holding target, they could save £200m alone through stock reduction.
As we are all too aware, the NHS faces significant challenges in terms of modernising its operations and making radical changes to the way it runs many of its hospitals.
In the area of hospital pharmacies, trusts should take heart that this a well-trodden path with many of the practices and principles they need to adopt already in place in hospitals all over the UK.
If all hospitals are able to achieve the current average cost of medicines per patient, then the NHS could save at least £800m and significantly improve a key element of patient care.
Martin England is pharmacy services director at Ashtons Hospital Pharmacy Services