Despite the inquiries into heart surgery at Bristol Children's Hospital, recommendations have been ignored and the unit has lost its direction and leadership, says Maria Von Hildebrand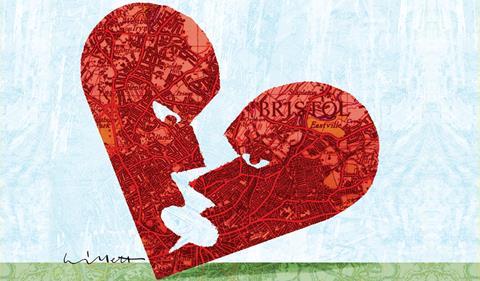 Bristol heart surgery
Valentine's Day this year was a poignant day.
I attended a meeting of parents whose children had died following heart surgery at Bristol Children's Hospital or had survived but left parents concerned about the safety of care at the unit.
'Bristol has lost its mojo, direction and leadership. It does not have to be this way'
In 1987 my daughter Jacinta died aged nine weeks after heart surgery at Bristol.
With other parents we formed the Bristol Heart Children Action Group in 1995 to campaign for a General Medical Council inquiry and a public inquiry. We wanted to know why there was no NHS accountability for patient safety.
Taking reviews to heart
The public inquiry, chaired by Sir Ian Kennedy, made 198 recommendations based on the patient's journey.
Since 2001 two national heart reviews have been undertaken to reconfigure children's heart units in England.
The rationale for reconfiguration is simple. It includes:
concentrating surgical expertise and training in fewer centres;
increasing the throughput of operations carried out and excluding occasional practice;
increasing and maintaining safe staffing levels;
collecting statistically meaningful mortality and morbidity data;
improving research and translation into clinical practice; and
providing a network of cardiology care locally and nationally.
Both reviews – by Professor James Monro in 2003 and Children's Heart Surgery – the Need for Change in 2010 – have fallen short of implementation.
In spite of 77,000 public responses agreeing with the urgent need to reconfigure services, the process remains in limbo.
Not surprisingly children's heart units are under huge pressure to maintain standards of safety and quality in an unsustainable context.
'The huge pressure on heart units puts children at greater risk of avoidable harm and death'
I cannot imagine how that must impact on staff morale and clinical practice but it certainly puts children at greater risk of avoidable harm and death. As a lay adviser on both reviews I offered a personal apology to the parents for the failure of reconfiguration.
The parents at Bristol described failures of effective leadership, safe staffing levels, teamwork, communication, providing accurate information to parents, listening to parents as experts and accepting parents' requests for a second opinion.
They also described delays – up to 20 months in one case – due to IT systems and the failure to act humanely and compassionately towards them in agonising and mismanaged situations. It painted a picture of a shambolic unit which contributed to some children deteriorating beyond any possibility of recovery.
The coroner at the inquests of several children has spoken of "lost opportunities". I am not sure if this phrase is a euphemism for negligence, complacency or indifference, but it seems that whatever is happening, the University Hospitals Bristol Foundation Trust appears to be inured to the impact "lost opportunities" has had on children, their families and staff.
Addressing mistakes
Mistakes happen, this is not the issue: it is how mistakes are addressed and how parents or staff are listened and responded to when they raise concerns. I wrote about this in BMJ article "What went wrong and how can we move forward?" in 1999.
The article prompted a response from the Cardiothoracic Society. I met Sir Bruce Keogh and we spoke about how parents could work in partnership with clinicians to improve safety and quality of care for children with heart disease.
In collaboration with the Children's Heart Federation and the British Paediatric Cardiac Association, standards of care were written as part of the Monro review. Standards were updated by a working party as part of the 2010 review.
I was shocked to hear these parents say they had no idea national standards of care existed. Why doesn't Bristol automatically provide parents with copies as soon as they are referred to the unit, plus a copy of the NHS constitution?
'Bristol needs to take stock of failings recounted by parents and engage truthfully with the upcoming review'
Parents' experiences now echo those of 20 years ago. The one major difference being that in the 1990s surgical outcomes at Bristol revealed double the mortality rates of any other unit in the country.
Surgical outcomes should not be viewed in isolation as surgery depends on clear communication, leadership and effective teamwork pre and post-op.
Another way
Sir Bruce is a retired heart surgeon, the NHS's medical director and a leading expert in data collection for surgical audit. He has publicly said child heart surgery at Bristol is safe and he would send his child there. With respect, his viewpoint is theoretical.
My advice to any new parent referred to Bristol is to explore options such as Southampton, Birmingham, Evalina or Great Ormond Street. At least until Bristol has taken stock of the failings of care recounted by parents on Valentine's Day to Sir Bruce and engaged truthfully with the upcoming independent review.
From 1995 to 2007 the Bristol heart unit became a true centre of excellence when Ash Pawade – a world class surgeon and leader – was appointed.
In recent years, it appears Bristol has lost its mojo, direction and leadership. It does not have to be this way.
Can the independent review being established by Bristol parents and Sir Ian Kennedy effectively address the "club culture" – at times displaying "an unconscious arrogance" as bereaved parents have said – and create a culture of compassionate responsibility to support staff to "never lose sight of the patient" rather than continue to "defend the indefensible"?
Maria Von Hildebrand is an independent patient advocate at Freelance Consultancy and Training