Patient involvement is repeatedly identified as a common condition for supporting the spread of innovation in the NHS, writes Trevor Fernandes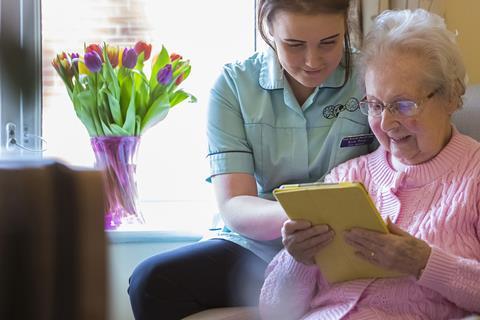 The patient will be at the heart of everything the NHS does. This is one of the core principles of the NHS Constitution. But what does this mean in practice – particularly when it comes to the introduction and take-up of innovative products and technologies?
I often find the definition of "patient involvement" to be inconsistent; it ostensibly means different things to different people.
Different definitions
The entrepreneur who has developed a novel digital app may seek end users to test and endorse their innovation. Clinical advocates championing a new model of care might offer a paternalistic view of what they believe their patients need. Historically, patients have been the beneficiaries of health and care technologies and innovations (eg flu vaccines), but increasingly they are also the end user, as emphasis moves towards self-management.
Patient involvement is identified as one of two essential conditions to expanding innovation take-up in an evaluation of the NHS Innovation Accelerator
The Five Year Forward View sets out a vision for a shift in power to patients and the public, highlighting the need to engage populations in new ways and involve them in decisions about their health and care services. This same vision necessitates leveraging the potential of technology and innovation to support a future NHS.
Yet there's a perceptible gap between the two which could be bridged by recognising the role of patients more fully. This begs the question, if the principles underpinning NHS England's patient and public participation policy were applied to the adoption of innovation, could this provide a silver bullet for increasing uptake and spread of transformative and life-changing technologies?
Patient involvement is identified as one of two essential conditions to expanding innovation take-up in an evaluation of the NHS Innovation Accelerator, published on 14 March. Since launching in 2015, the NIA has supported 36 "Fellows" to scale high impact, evidence-based innovations across England's NHS.
It has demonstrated success, with an additional 964 NHS sites taking up the NIA innovations to date. The independent evaluation on year one of the NIA, carried out by the Institute for Employment Studies and York Health Economic Consortium, and funded by The Health Foundation, assessed factors which influenced current and future take-up of innovation.
Patient involvement is repeatedly identified as a common condition for supporting the spread of innovation in the NHS. What's most striking, is the varied and wide-ranging role that this encompasses.
Development, user testing and feedback is intrinsic to ensuring that innovations that depend heavily on patient choice to use or purchase, are user-friendly and offer all the functionality desired by patients. For one app, the innovator reported that initial navigation issues were solved and new features added as they discovered that what patients want isn't the same as what clinicians think they want or need.
Patient groups are instrumental in encouraging people to participate in trials and testing, which is essential to develop the evidence base for the benefits of the innovations. For example, patient groups were pivotal to Join Dementia Research's aim of increasing engagement in dementia research, and in persuading policy leaders that this idea had traction.
Patients promoting innovation benefits and acting as champions help break down suspicion of new technologies. This was particularly true in the case of myCOPD and Sleepio's digital interventions, where patients had suffered long term conditions and experienced limited benefits from previous treatments.
Patients also helped overcome objections or resistance on the part of healthcare professionals. Putting patients in control in the case of sharing personal data using Patients Know Best helped dispel clinician concern about data protection and removed a key obstacle to diffusion.
Mobilising demand and pressure for change was helpful in persuading purchasers to take notice and act in response to patient needs, particularly in shifting issues up a contested agenda for priority and resources. Collective patient groups coming together as one voice is difficult to argue with. Having this pressure on the system to take-up an innovation, means that commissioners must act. This illustrates the potential of patient involvement as part of change from a social movement perspective.
The barriers to take-up and spread of innovation in the NHS are increasingly well documented, as is the narrative around how we begin to tackle these. More recently, emphasis has been on financial incentives, with the introduction of the Innovation and Technology Tariff last April, and its new iteration, the Innovation and Technology Payment launching this spring.
This is an extremely positive development, however reimbursing purchasers for uptake of innovation is not enough. The end user – patients – must be embedded in this narrative, and the role of patient involvement adopted as the norm, if we are to succeed in greater uptake and spread of innovation in the NHS.
Innovation in the NHS should focus on delivering incredible patient outcomes for England's population; whether that's specific outcomes for the patient, or through greater efficiencies that release resources to improve care. But only with patients intrinsically involved, will the NHS be able to reap the benefits of innovation, and offer a silver bullet to those great products, models of care and new technologies yet to be made widely available.
For more information about the NHS Innovation Accelerator (NIA) and to read the year one evaluation, visit www.nhsaccelerator.com

Trevor Fernandes is Chair of the East of England Citizens' Senate, a Patient Representative of the NHS Innovation Accelerator (NIA) Operational Group, and a member of the independent advisory group involved in the Year One Evaluation of the NIA. Trevor was awarded the first ever Patient Leader Award by the Health Service Journal (HSJ) in 2015, and is a previous finalist in Health Education England's Leadership Awards.