Jim McManus argues the NHS is 'moralising' about HIV when it should be working with local authorities on system-wide prevention
In March this year I wrote about NHS England's attempt to shunt costs for pre-exposure prophylaxis for HIV onto councils at a cost of £20m a year.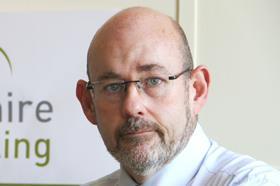 NHS England claimed that it couldn't fund PrEP because it didn't have the powers. Funding PrEP, it argued, was a council prevention function. Legal action by the National Aids Trust ensued, with the Local Government Association as an interested party.
On 2 August in the High Court, Mr Justice Green said NHS England did have powers to commission PrEP and in fact had broad preventive powers.
Disappointingly NHS England immediately announced it would appeal the decision. What's more, it put out an inflammatory press release saying that PrEP "is a measure to prevent HIV transmission, particularly for men who have high-risk condomless sex with multiple male partners".
This is factually questionable. At least one study has shown there was no increase in partners among PrEP users. Heterosexuals and sex workers meet the criteria for PrEP too and PrEP is one precaution to be used alongside condoms.
NHS England then repeated on television its earlier assertion that the legal action is delaying commissioning of procedures for children with cystic fibrosis. Only lacking from a seemingly ill-tempered interview was the word "innocent" before "children". Distasteful doesn't begin to describe this.
The big issues
Many of these interventions were queuing before PrEP. NHS England spending on PrEP (£20m) or its drugs for children would be one fifth of NHS spending on paracetamol every year (£87m) and less than it spent in recent memory on homeopathy. Don't blame PrEP when the issue is NHS England's management of the commissioning system.
For every pound PrEP costs, it would save the NHS (conservatively) well over £30 in treatment costs. NHS England will save £520m when HIV drugs come off patent onto generic. What we get is obsession with treatment inputs, rather than focus on population outcomes.
Distasteful media handling mustn't distract us from the big issues for councils. If we think through this unedifying saga of cost-shunting, while reading closely Mr Justice Green's judgment, we see several system challenges.
The judgment made clear this was about powers. The LGA's legal arguments were that the NHS does have wide powers to commission preventive work and not just on HIV. NHS England disagreed, saying this wasn't the intention of Parliament.
We have neither a proper framework for prevention nor joined-up leadership nationally for it
NHS England has a prevention role. That must be true. Abrogate responsibility for prevention and you all but admit the whole system is an endless illness repair workshop. The whole Five Year Forward View is predicated on "getting serious about prevention". We need a preventive system if we have any hope of delivering a sustainable health and care system.
The financial situation we are in requires system-wide action on preventing need for public services. NHS England faces tough financial challenges. The Treasury is watching very closely and the public accounts committee recently said NHS England hasn't communicated clearly how its specialised commissioning function fits with the future strategy of the NHS or its need to save £22bn. Articulate, shared leadership on system-wide prevention is crucial. Moralising over PrEP while failing to address the system issues is poor leadership.
We have neither a proper framework for prevention nor joined-up leadership nationally for it. If the latest judgment stands, NHS England can no longer pick and choose between preventive interventions it likes and doesn't. It would need to consider prevention properly as part of a sustainable health service. Why wouldn't we want that?
It's time to get serious about what prevention will and won't deliver in reducing the burden of avoidable disease and costs to the public purse. Unfortunately this doesn't seem to be what we are getting from the national leaders beyond a few high-profile projects like the diabetes prevention programme. A financial situation this challenging requires us to collaborate, not fragment.
Bad grace
We need a proper prioritisation process. The traditional financial gambit to pour more money into the NHS, often without concomitant increases in productivity or outcome, has failed. Most STPs are trying to close massive financial gaps when some workforce planning areas still seem to think the game is to increase numbers in many specialties. Time to press the reset button.
If not funding PrEP is the first sign of rationing, then do it transparently
The financial situation and burden of ill health we are facing now would stretch any financial settlement. The system needs to make tough choices together on the benefits, costs and outcomes for our population. If we can't afford everything, what is most important? What must be done? We need a thorough, fair, competent, transparent and equitable prioritization process. In a financially limited system choices are always going to have to be made. Councils live with that. It's now time for NHS England to do the same rather than play off sections of the population it thinks will get more sympathy in the media.
If not funding PrEP is the first sign of rationing, then do it transparently. Don't moralise; prioritise.
You don't get good priorities by playing shops with legal responsibilities. Both moralising and responsibility-shunting are inadequate leadership tactics. The opportunity from today's judgment is to prioritise together, and deliver the system together, which is what I believe Parliament intended.
NHS England preaches partnership, working together and pooling resources, expertise and pathways to address the crisis we now face but it rarely demonstrates those behaviours itself. You don't get partnership through sleight of hand with legal duties. This judgment should give NHS England pause for thought on its leadership style and approach. Instead we get bluster.
We need to hope the appeal by NHS England fails. NHS England's PrEP tactics smack of short-termism and bad grace. That's no way to run a system. It's time for a change of attitude, behavior and style.
Jim McManus is director of public health and Hertfordshire County Council. This article first appeared on lgcplus.com