With 2015 being the worst year for cancer waiting times, implementing changes to services for better patient experience is crucial. By Sarah Woolnough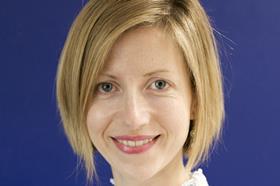 This week the NHS announced the intention to create a world-class cancer service in line with last year's cancer strategy. This included a commitment to shorten the time people wait for a diagnosis (or the all clear).
Waiting time figures act like a barometer for cancer services, and the pressure is rising: 2015 was the worst year for cancer waiting times since records began. In the last quarter, over half of trusts breached the 62-day target.
Early diagnosis makes a huge difference to survival. When bowel cancer is diagnosed at the earliest stage, more than nine in 10 survive for at least 10 years. But if diagnosed at late stage, survival drops to less than one in 10. And psychologically, the length of time a patient waits for cancer treatment makes a huge difference.
But meeting the target of 85 per cent of people starting their treatment for cancer within two months of an urgent referral from their GP remains stubbornly out of reach. This target has been missed consistently since the beginning of 2014.
Early diagnosis makes a huge difference to survival
Since that time, more than 50,000 people have waited longer than two months to start the treatment that could save their lives.
Around 24,300 patients waited more than 62 days for treatment during the past financial year (2015-16). And of these patients, more than four in 10 (43 per cent) were left waiting between two weeks and one month beyond the target before starting treatment. And around a quarter (26 per cent) had to wait more than one more month – so at least three months in total.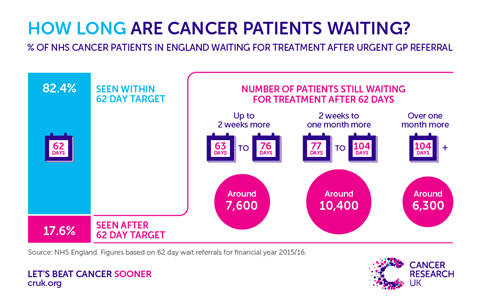 This means less than a third of patients were treated 'just after' the two-month threshold, compared with the majority of patients who had to wait much longer. We aren't 'just' missing this target, patients that breach are being failed as they are left waiting longer and longer for treatment.
These figures illustrate a service under huge amounts of pressure – even in a priority area like cancer.
Why?
More than 1.5 million urgent GP referrals for suspected cancer were made last year – a 50 per cent increase over the past four years. This is good news – more referrals means more patients are being appropriately picked up in primary care and more will be tested.
We hope this will mean more cancers diagnosed earlier and ultimately more patients surviving.
New National Institute for Health and Care Excellence guidelines published recently also aimed to make it easier for GPs to refer patients, by lowering the referral threshold. Since then Cancer Research UK has been working with GPs to put these guidelines into practice.
So what's the problem? The target for two weeks to see a specialist isn't being breached, and neither is the 31-day target for the period between diagnosis and treatment.
This suggest the 62-day wait target is breached due to challenges in the pathway between being seen by a specialist and being diagnosed – which all points to a problem with diagnostic capacity.
NHS England will soon begin piloting a new 28-day target, which will measure the time between urgent referral and patients receiving a definitive diagnosis. This would measure the part of the pathway we're worried about, so will be an important metric for monitoring capacity and performance in the future.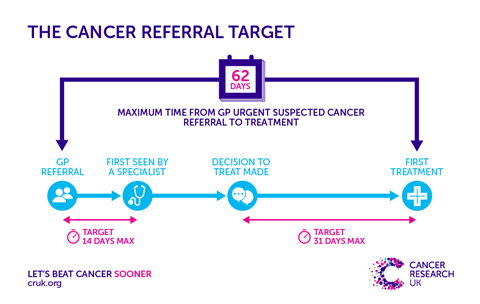 Scoping the future
The worry is that this is only going to get worse. With an ageing population and rising cancer incidence, patient volumes are likely to increase – it will be more important than ever to diagnose and treat early.
By 2020, we'll need to do 44 per cent more endoscopies than we do now. This means an extra 750,000 procedures per year. And that is just one diagnostic process among many. It is clear if the current care model persists that we will need to run just to stand still – let alone deliver the improvements
The NHS can absorb a certain amount of added pressure: staff are committed and go the extra mile every single day to give patients the best care they possibly can. But the service would not be able to absorb this increase in demand – and the cracks are already starting to show.
With an ageing population and rising cancer incidence, patient volumes are likely to increase – it will be more important than ever to diagnose and treat early
This is clear in endoscopy, where we're already seeing high staff vacancy rates, high amounts of overtime working and too much money spent on temporary staff. And as the NAO's recent report shows, this is mirrored across the NHS –with a vacancy gap of 50,000 (almost six per cent).
What now?
The Five Year Forward View set out the need for faster diagnosis of cancer – aiming for a 10 per cent increase in patients diagnosed early. The cancer strategy expanded on this, setting out a range of recommendations aimed at improving cancer awareness, screening uptake and the level of referrals – and also the need for increased investment to support this uplift in activity.
In September 2015, the Government announced up to £300m more per year would be spent on diagnostics by 2020. Since then, we've been waiting for more detail on how this will be spent.
Now we've seen some of that detail, in the form of 'Achieving World Class Cancer Outcomes: Taking the Strategy Forward', a plan from the NHS.
We understand that the bulk of this increased investment will fund the increase in Clinical Commissioning Group allocations, as the Five Year Forward View included 7 per cent year-on-year growth in diagnostic activity over the next five years. Planning for this uplift in testing is therefore one of the nine 'must dos' for CCGs in the 2016-17.
We also know that there'll be £15m allocated nationally on early diagnosis initiatives, through the 'National Diagnostics Capacity Fund'. This will test some of the initiatives recommended in the cancer strategy.
Health Education England has announced it will review the cancer and related workforce and develop an action plan to address capacity issues in the next few months. To 'future-proof' the workforce a strategic vision is essential, so we look forward to seeing what HEE deliver by March 2017.
If we're serious about the cancer strategy, serious about the Five Year Forward View and serious about the NHS, these plans are good news – but we aren't quite there yet.
We know what the problem is. We have a clear sense of the solutions that will start to fix the problem. And we know that, without action, it will get worse. We now need to start driving forward the much-needed changes to cancer services to deliver better outcomes and experience for patients.
Sarah Woolnough is executive director of policy and information at Cancer Research UK