Maybe the chief medical officer spent his spare time at the beginning of the 1980s scouring Britain with a metal detector in search of buried treasure, or maybe one of the Department of Health's designers did.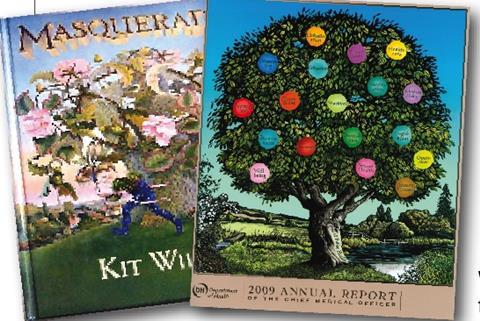 Sir Liam and the hunt for the golden hare
Either way, the eye-catching cover of Sir Liam Donaldson's valedictory annual report bears an uncanny resemblance to the front page of cult treasure hunt book Masquerade, published in 1979 by one Kit Williams.
For those old enough to remember, the lavishly illustrated book (Masquerade, not Sir Liam's report), contains a series of eye-wateringly cryptic clues hidden in its drawings and text that would lead the solver to the spot where a jewel encrusted golden hare was buried.
The solution, apparently, was to be found by drawing lines between significant figures in the illustrations that would point to a number of letters, which in turn would form words, which ultimately explained that the booty was buried in a field in Bedfordshire.
It is unlikely the answer will be interred somewhere near Luton, but perhaps if one looks closely enough, the solution to impeccable public health in the UK is buried away, in fiendish fashion, on the cover of Sir Liam's final report.