The post-reform NHS is a rich source of material for our radio sitcom, but unfortunately satire tends to point out the problems without offering solutions, writes Phil Hammond
The challenge of writing a comedy drama about the NHS is trying to compete with reality. As General Medical Council boss Niall Dickson observed at an HSJ roundtable, "The NHS is so vast that you can say just about anything about it – good or bad – and it is probably happening somewhere."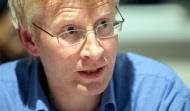 'Satire points out the problems but rarely offers solutions'
Choosing subjects for the third series of Polyoaks, the programme I co-write with David Spicer, was easy. This Radio 4 sitcom is about a GP practice struggling to combine the spinning plates of the day job with its responsibilities in a marketised NHS, and the medical press is littered with tales of impending oblivion and the apparent shortage of 10,000 GPs in England alone.
Add in the never ending stream of whistleblower tragedies, the Care.data cock up, the controversies of Care Quality Commissions inspections and the demands of a population living a lot longer with a lot more illnesses on a lot more pills, and you have your four episodes. Now you just have to make them funny.
This is where I sometimes struggle. I believe in the NHS, and that to improve it requires everyone at every level to grow up, get real and collaborate. But comedy is conflict. You create characters with very different ideologies and worldviews so they wind each other up and get trapped in petty rivalry and point scoring. So instead of creating the change I want to see, comedy often perpetuates the stereotypes I hate for a cheap laugh. Satire points out the problems but rarely offers solutions.
A Swiss ball, tights and skittles
To test out new material and judge the public mood, I've been touring the UK with David Spicer. If you saw the Games to Play with Your Doctor show, David is the poor sod who gets wheelbarrowed across the stage on a Swiss ball while trying to knock down political skittles with two tennis balls stuck in the feet of a pair of my wife's tights that are worn on his head. I got the idea for that while vigorously celebrating my revalidation, which I think means I can do whatever I want for five years before the GMC ferrets around in my subconscious again.
'My Venn diagram of the CQC, Monitor and the TDA did not get the warm chuckle of recognition I'd hoped for'
Anyway, David and I have listened to and observed audiences around the UK and they overwhelmingly love the NHS, have had largely good experiences of it and want it to be there forever. However, some of them also seem to think they can pleasure themselves to the max and the NHS will pick up the pieces. I've tried to preach the mantra of pleasuring yourself in a safe and sustainable way but there's only so much you can do with a Swiss ball and a pair of my wife's tights.
What's also been very apparent from the tour is that even the doctors in the audience are clueless about how a clinical commissioning group gels with its support unit under the watchful eyes of the NHS England local are team and the overarching clinical senate.
One man, a professor of law and staunch Radio 4 listener no less, couldn't even tell me the difference between Healthwatch and a health and wellbeing board. He thought NHS England was part of the Department of Health. My Venn diagram of the CQC, Monitor and the NHS Trust Development Authority did not get the warm chuckle of recognition I'd hoped for.
Out-jargoning the NHS
So why you've all beavering away in martian McKinsey-speak up in Liverpool, we've had to write a sitcom about the most complex reforms in NHS history by avoiding the completely impenetrable jargon and creating a nice but dim character, Dr Jeremy, who doesn't understand anything so will always clarify what, say, a duty of candour is on behalf of the audience.
'You get 20p if you spot an in-joke, but any resemblance to current or past employees of the NHS is entirely coincidental.'
Not to be outdone by the NHS, we introduced our own jargon, in the form of made up Afrikaans swear words uttered by Vera, a practice nurse. We had great fun making them up, but the BBC in its wisdom decided to run them past its pronunciation unit to check we hadn't introduced real swear words under the radar. The pronunciation unit takes it's work terrible seriously and several of our words were perilously close to rude, but at least plinking dogbrek made the final cut.
By the third series, the characters have bedded down and you know how they'll react in any given situation. We have a great cast and they laughed a lot in rehearsals, which is always a good sign. Or maybe they just needed the money.
Anyone doing a proper job of saving the NHS will be working when it goes out live at 11.30am on Fridays (including me, in my NHS clinic for young people with chronic fatigue syndrome), but you can listen again over the weekend and tweet me your thoughts at @drphilhammond.
You get 20p if you spot an in-joke (terms and conditions apply). But any resemblance to current or past employees of the NHS is entirely coincidental.
Dr Phil Hammond is a hospital doctor, journalist, broadcaster and comedian