The main parties' manifesto commitments to the sector seem to suggest that a strong platform for change is finally at hand, says Ben Nunn
Elections matter for the NHS. Although much of the day-to-day health service delivery is independent of politicians, the promises they make to voters during an election campaign can play a significant role in setting the priorities for the NHS for the years to come.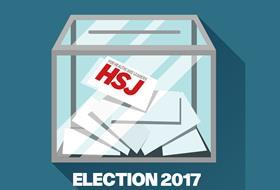 A manifesto commitment is the strongest form of a political promise. These commitments are seen by MPs, governments and the civil service as being sacrosanct. And they have a special status in Parliament, with the House of Lords reluctant to vote against legislation that is tied to a manifesto promise.
That it was so noteworthy that Theresa May changed her manifesto policy on social care during the campaign is testament to the status of manifesto commitments.
Ministers (and indeed prime ministers) can change, but a manifesto remains constant throughout a party's time in government. Just ask Philip Hammond, who experienced the full force of the status of manifesto pledges when he was forced to backtrack on the changes to national insurance he announced in the Budget.
In recent years, manifesto commitments have shaped health service delivery and contributed to significant improvements in specific disease areas.
In 1997, the Labour Party pledged to "end waiting times" for breast cancer surgery. Although the pledge proved problematic to deliver, it resulted in a concerted effort to improve cancer services, ultimately resulting in the publication of the NHS Cancer Plan in 2000.
The Conservative Party's 2010 manifesto promised to introduce the Cancer Drugs Fund, resulting in over £1bn of ring-fenced expenditure over the course of the coalition government.
David Cameron's 2015 manifesto enshrined his personal commitment to improving care for people living with dementia, with an ambition for Britain to lead the fight in finding a cure.
The issues that are prioritised in a manifesto are often determined by different factors.
Personal experience matters. The difficulties faced by Andy Burnham's family to fund his gran's social care drove his personal commitment towards campaigning for a national care service. The experience of close friends of Tony Blair and Gordon Brown drove commitments on cancer and heart disease. Theresa May's experience of the impact of mental ill-health on the criminal justice system has driven her interest in the issue.
Sometimes commitments are driven by opportunity. Pledges on screening programmes, for example, were only made possible by the science.
Often promises come out of necessity. Growing waits for routine operations led to Labour's 1992 promise to cut waiting lists and the infamous War of Jennifer's Ear. And promises by all major parties in 2015 to integrated health and care was a partial response to the disintegration of social care following the prolonged squeeze on local authority budgets.
How manifesto promises have changed over time is an indication of how health priorities have changed, too.
Analysis by Incisive Health of the manifestos published by each of the three major parties (or relevant predecessor) since 1945 reveals that prior to 1987 references to specific medical conditions in manifestos were relatively rare.
However, since then they have increased dramatically, with the 2017 manifestos having more mentions of specific conditions than ever before. Politicians have realised that people's experience of health issues resonates. Appealing to lived experience is always more compelling than discussing abstract structures.
Cancer has been a consistent feature of party election manifestos since 1987 and helped contribute to a number of major policy changes in that period: the national programme for breast cancer screening, extra investment to cut cancer waiting lists and action to tackle barriers to access to treatment.
References to dementia are a relatively new phenomenon, reflecting in part the growing prevalence and profile of the disease. In this election, only the Conservative Party have made a specific promise on dementia although this has been overshadowed by the controversy over its flagship policy to reform social care, which was branded by critics as a "dementia tax".
But it is mental health that has seen the most prominent rise in manifesto promises in recent years. Our analysis reveals that there have been more mentions of mental health in this election's manifestos than for any other condition in any other election since 1945.
The Conservatives have promised a new mental health bill, Labour would ringfence mental health budgets and the Liberal Democrats have committed to six-week maximum waiting times for people suffering from depression and anxiety.
At a time when – whoever wins the election – budgets will remain tight and performance standards will remain under pressure, the prominence of mental health could make the difference between continued action to improve care and preventing the issue failing victim to competing priorities.
Warm words about 'parity of esteem' have been common in political debate throughout this decade, but action has been slower (esteem is, after all, about thinking rather than doing). The challenge for the mental health community is therefore to translate this political interest (consensus?) into tangible change for patients. History suggests that the 2017 manifesto commitments provide a strong platform to do so.
Ben Nunn is associate director at Incisive Health