HSJ reporter Shaun Lintern feels the physical and emotional burden as he works a 12-hour shift in A&E
Arriving at Watford General Hospital to start my 12-hour hands-on shift alongside accident and emergency staff was daunting to say the least, and I'll admit to feeling anxious and nervous.
West Hertfordshire Hospitals Trust promised me a "warts and all" experience so I could learn what it was like on the true front line of the NHS.
The day, while only a snapshot, did not disappoint and will have a lasting impact on me.
Dual pressures
During the morning I worked alongside A&E registrar Dr Nick Turley, one of the rare breed of doctors to have chosen a career path in emergency medicine. I saw first-hand the dual pressure he was under to diagnose and treat patients within the four-hour target and to complete a bewildering amount of paperwork, as well as the duplication involved in each case.
'The day did not disappoint and will have a lasting impact on me'
We spoke to a number of patients ranging from young to very old. In all cases the challenge was not only medical but also personal as he deftly explored the issues with sensitivity and care. The soft skills of a doctor in dealing with vulnerable human beings were impressive to watch.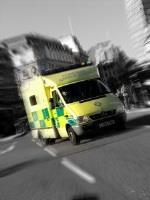 Things change very quickly in A&E and mid-morning the department suddenly shifted from quiet to very busy.
Two buses had collided in rush hour bringing six patients to the department in quick succession. Temperatures outside were also climbing, bringing an influx of people struggling with the heat and humidity. The department was full, with no spare beds and more patients on the way.
This was when I saw the professionalism and skill of the A&E staff come to the fore. The impressive leadership from nurses in charge and consultants ensured everyone knew what they were doing and tasks were assigned.
'I had cleaned my first commode and bed and my next task was to help porter a patient to the nearby acute admissions unit'
By this point my feet were already aching. I had cleaned my first commode and bed and my next task was to help porter a patient to the nearby acute admissions unit. Under the watchful eye of the nurses I did what I could to help. It was hard work and just a fraction of the effort put in by everyone else.
A real eye-opening experience was working alongside healthcare assistant Rachel Johnson. Trained to cannulate and take blood from patients, she was a crucial cog in making sure the department was working well.
She spent the majority of the time with the wide range of patients in the department, and her approach to them was exemplary. The tasks she took on many of us would balk at. Those she was caring for were so grateful, and during all the interactions I witnessed it was she who had the most time to put patients at ease and remove the fear they all had at finding themselves in A&E.
Mental note
Just one example of the value Rachel and other HCAs brought to the department was when we were on our way to a side room to deal with one patient. She suddenly stopped as we passed a gentleman sitting on a chair waiting to be seen.
He was not our patient but Rachel had made a mental note of him earlier and could now see he was deteriorating and likely to collapse at any moment. We rushed to get a trolley and helped the man to lie down. He was quickly assessed and moved to the resus area.
With a smile and chuckle Rachel went back to her job and to the next patient, seemingly unaware of the excellent care she had just delivered.
This professionalism and caring attitude was replicated among all the staff I saw. Nurse Sarah Dobbs, who I shadowed on a blue light ambulance transfer with a cardiac patient to another hospital, was equally dedicated and put her patients first at every opportunity.
As we left the patient in his new hospital he made a point of calling out to me to "give her a good review".
'I had been warned I might see things that would be difficult to leave behind'
I had been warned I might see things that would be difficult to leave behind. It came in the form of an elderly patient who found themselves in A&E due to a chronic condition that had left them horrifically emaciated and seriously ill.
I offered them a simple drink which they gratefully accepted, offering a weak smile as thanks. It seems strange that out of all the things I saw that day this patient would be the one that most affected me, but I've thought about them every day since.
Emotional burden
NHS staff face this sort of emotional burden day in day out and it's just accepted as part of the job. It is something quite unique and a pressure the rest of us dismiss all too easily.
From what I saw the real beauty of an accident and emergency department is hidden in the small things – it's the comforting hand on the shoulder; the unprovoked kind smile or the patience to wait and listen to what someone has to say.
You'd be hard pressed to see this walking through an A&E – they are by nature extremely busy places. A hundred things are happening at any one moment, enveloping the staff in what to an outsider can appear to be utter chaos but to those within the storm is just another day at the office.
I was physically exhausted when I finally arrived home after the shift. I had been so wrapped up in the day I had barely eaten, despite pleas from matron to take my breaks. My feet and back ached terribly and my brain was swirling with emotion and thoughts.
Could I have gone back the next day to do it all over again? Yes. Would I want to? Probably not – but thank God some do, every day and every night, 365 days a year.
Shuan Lintern is a news reporter for HSJ and Nursing Times. This article first appeared on nursingtimes.net