If you missed the live online webchat with Andrew Lansley last week, director of the Collaboration for Leadership in Applied Health Research and Care for north west London professor Derek Bell offers an insight into the health secretary's thoughts on what the Health Bill means for research and quality improvement in the NHS.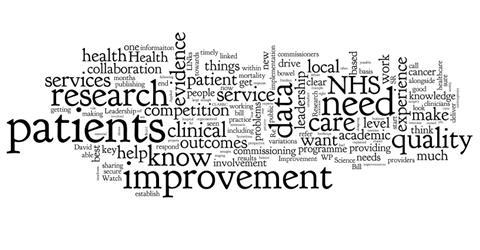 A visualisation of the key terms that appeared in Andrew Lansley' and Derek Bell's webchat
Last Wednesday (1 June 2011) I interviewed Andrew Lansley on elements of the white paper and draft bill related to research and quality improvement. We used a webchat platform provided by the DH and my team live-tweeted from the interview and from our research office to provide useful links and commentary for our followers.
There are two issues I'd like to share in advance of more resources being developed by the CLAHRC for Northwest London to help extend the benefits of our work today.
Academic input into commissioning
I asked the health secretary how the academic community can contribute effectively to commissioning and make the most of the new landscape.
The answer included reference to Academic Health Science Centres and how they can be thought of as Academic Health Science Systems where research, innovation, clinical leadership and quality improvement can be combined within an (albeit very large) organisation.
However, to maximise the impact of these regional systems we must ensure that evidence based implementation is given priority to maximise benefits for patients.
Balancing collaboration and competition
After commenting on the significant investment needed across region to establish sustainable collaboration, I asked how the white paper and draft bill balance competition and collaboration.
The answer positioned patients at the centre of this balance, and suggested that if increased involvement in decision making effectively gives rise to competition, then competition is a means to an end and not an end in itself.
The new duty of commissioning consortia to deliver continuous improvement in quality also influences this balance, which will place an important emphasis on leadership at all levels recognising the voice of the NHS, social care, the research community and patients to ensure the balance is correct and there is a clear direction of travel.
A key theme I returned to a few times was sharing knowledge across boundaries, including problems to do with the timeliness of data for quality improvement. Tweets and re-tweets suggested this was a theme relevant to many colleagues across the NHS.
If you would like to discuss further and share your thoughts and questions with our network, please tweet or follow @CLAHRC_NWL and we will share the resources following today as soon as they are ready.
See more detail from the webchat as it happened using the infographics attatched right.
Downloads
PDF, Size 1.26 mb

PDF, Size 1.34 mb