NHS Property Services has signed a rent deal for new offices in the City of London
The deal was signed in January and staff have moved from temporary offices nearby
The company is introducing market rents for its NHS tenants
NHS Property Services has signed a five year deal worth over £1m to move to "prestigious" new headquarters in the heart of the City of London, HSJ has learned.
The estates company, which owns 10 per cent of the NHS estate and manages more than 3,500 premises, signed a deal to move into 99 Gresham Street, near the the Bank of England, in January.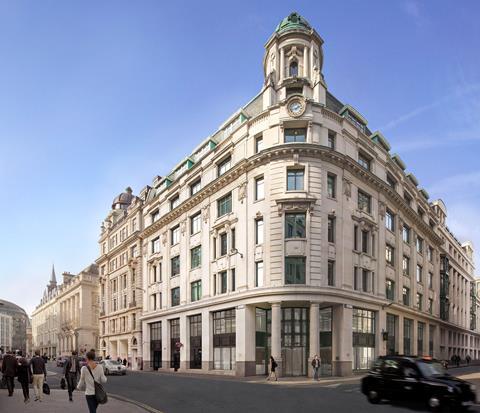 HSJ has learned the company agreed to take the first and second floors of the building, covering 27,416 square feet, with an average rent of £63.73 per square foot on a five year lease with 16 months rent free. This would make the total rent worth £1.75m. NHS Property Services refused to answer any questions about the deal or say whether the rent was payable weekly, monthly or annually.
The move to the new premises comes as the government is preparing to merge NHS Property Services with Community Health Partnerships to form a new strategic estates planning body. This follows recommendations from Sir Robert Naylor's report on the NHS estate. It is not clear whether these plans were taken into account by NHS Property Services when it signed its five year lease.
The company is leading a drive to increase rent prices for GP practices and other tenants of its property portfolio as part of a move towards introducing market rate rents. This began in 2016 and has increased costs significantly for some tenants.
One source told HSJ: "They are managing 3,500 premises and pushing up rents. I find it hard to believe they couldn't find somewhere more in line with the NHS ethos."
According to the website for 99 Gresham Street, the building has been refurbished to provide "highly specified grade A accommodation with a stunning new reception". It adds: "This prestigious HQ building is situated within the heart of the City, overlooking the Bank of England, only two minutes walk from Bank station."
The website says the building "is perfectly positioned for entertaining clients, benefiting from close proximity to an enviable mix of world class eateries and amenities".
According to the brochure for the building, it has five landscaped terraces as well as a health club. It said: "Suttonca, the building architects have created unique, best in class end of trip facilities. Taking inspiration from the Haçienda nightclub and music venue in Manchester, the shower area features a humorous nod towards this iconic venue."
In 2015-16, NHS Property Services had a turnover of more than £740m. It completed sales of £67m and supported more than 166 housing units built on NHS land. It said its focus was "the professional management of the estate, with a big focus on leases and a move to market rentals".
According to Companies House records, the health secretary owns a 75 per cent stake of the company on behalf of the government. Other directors include outgoing NHS Improvement chair Ed Smith.
A spokeswoman for NHS Property Services said: "The move allows us to consolidate staff from six offices across London into one, making savings for our business and the wider system.
"We relocated from the original headquarters at Skipton House at the request of NHS England, who were consolidating their London operations. This move helped NHS England save considerable costs."
She said the company did look at other properties available on the government property list but "none were available".