HSJ's editor on why the new bodies should enter the HSJ Awards
The HSJ Awards are the largest and among the longest running celebrations of healthcare excellence in the UK. For the last three decades, they have recognised the most important advances in patient care made by a wide range of NHS organisations.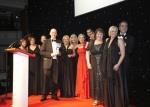 I hope you will agree that it is important that CCGs begin to demonstrate their unique contribution as quickly as possible. Entering the HSJ Awards is among the most effective ways to do that.
Details of the HSJ Awards categories can be found at www.hsjawards.co.uk and I would particularly point you towards the CCG of the year; board leadership; clinical leader of the year; and primary care categories.
The entry deadline is 1 July.
If you need any help, please contact francesca.verdusco@emap.com or call +44 (0)20 3033 2660.
Good luck.