Lawyer warns CCGs assisted conception policies could break discrimination laws
Several commissioners across the South East do not fund assisted conception for same sex couples
Some CCGs are reviewing their policies
Clinical commissioning groups have been warned their policies on assisted conception could fall foul of discrimination laws if they treat same sex couples differently from heterosexual ones.
The warning comes as several CCGs are looking at what they provide. Milton Keynes CCG is reviewing its policy of funding some intrauterine insemination for heterosexual couples – including donor sperm in some cases – but does not offer funding for same sex couples.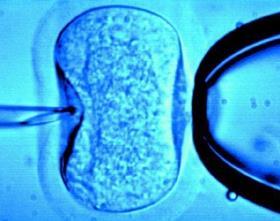 Eight CCGs across Kent and Medway have agreed to review their policy of not funding any treatment involving donated genetic material, which would automatically rule out help for same sex couples, following a complaint.
CCGs in Sussex have also told the campaign group Fertility Fairness they do not fund assisted conception for same sex couples. Brighton and Hove's policy, for example, excludes treatment using donated genetic materials for any patient groups.
In other areas, same sex couples can access IVF but often only after they have gone through three to 12 cycles of self funded artificial insemination in a clinic first to "prove" their infertility. They may then face other barriers to treatment – including CCGs that will not fund treatment with sperm that has been bought rather than donated "altruistically". Male same sex couples seeking help with surrogacy face an even tougher battle.
Merry Varney, a human rights lawyer at Leigh Day, has already raised discrimination issues with some CCGs, leading to clients being offered treatment, compensation or both. No issue over funding for a same sex couple has gone as far as judicial review, but Ms Varney warned some policies could be challengeable as there is often no clear rationale behind them.
She said: "The NHS is not a bottomless pit, it is entitled to put limits on the treatment it provides, but that needs to be done on a fair and equitable basis. I think some CCGs are doing cost saving exercises with no thought to their legal obligations, especially the duty to reduce inequalities in healthcare.''
Policies that deny funded treatment to a same sex couple but would provide it to a comparable heterosexual couple were potentially unlawful, she said. She questioned whether requiring couples to go through self funded procedures multiple times before getting access to NHS funded treatment could also be open to legal challenge.
Aileen Feeney, chief executive of Fertility Network UK, said: "We urge CCGs to follow National Institute of Clinical Excellence guidance and also to provide access to IUI for same sex couples."
Stonewall called for funding to give same sex couples equal access to fertility treatment. The charity said: "We know that many couples often face a postcode lottery when it comes to accessing fertility treatments. Unfortunately for some same sex couples, they can face even greater barriers because their CCG may prioritise treatments for opposite sex couples. We believe it is vital to make sure that all people, regardless of sexual orientation or where they live, have equal opportunities to start a family".
Same sex couples can face bills of more than £10,000 for cycles of artificial insemination before they can even apply for IVF, the Fertility Network said. Some couples consider going straight to privately funded IVF rather than spending a year paying for other methods of assisted conception to demonstrate infertility.
Kent and Medway CCGs are also considering a wider review of their policies, which could mean the number of funded IVF cycles reduced from two to one, or even none. Papers to West Kent CCG's governing body suggested the extra cost of funding assisted conception using donated sperm or eggs would be more than £100,000 for West Kent alone – and CCGs might also need to look at assisted conception for surrogates if they do not want to risk a legal challenge on discrimination grounds.
In a statement, the CCGs said: "We are evaluating how we can use our funding to best effect for the population as a whole, paying for the most effective treatments and striving to eliminate inequalities. As part of this, the CCGs in Kent and Medway are considering a review of assisted reproductive technologies, including potentially reducing the number of IVF cycles people can have.
"At present, Kent and Medway provide up to two full cycles of IVF (defined locally as two fresh attempts and two using frozen embryos, providing upto four attempts at pregnancy) whereas the majority of CCGs in England now commission one cycle."
Milton Keynes CCG said: "The current assisted conception policy excludes same sex couples; however, the policy is currently under review. The review will take into consideration the NICE guidelines issued in February 2013, which include reference to same sex couples."