Chair of government review of funding and links with voluntary, community and social enterprise says commissioners not doing enough to engage with sector
Levers and incentives need to change, he says
Call for use of wider mix of funding, including social prescribing, personal budgets and social investment
Incentives and levers need to change to encourage commissioners to draw on the voluntary, community and social enterprise sector, according to the chair of a government review.
The review of funding and partnerships with the sector is due to report to the Department of Health and NHS England in coming weeks, following more than a year of work and consultation.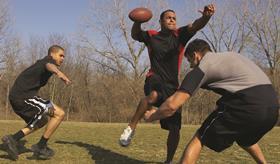 Alex Fox is chair of the VCSE review and chief executive of Shared Lives Plus, a charity for family and small-scale care and support. He exclusively told HSJ it had found wide variation between areas in how NHS and local authority commissioners had dealt with the sector in recent years. Some VCSE organisations were in "crisis because of the impact of austerity" where funding authorities had "retreated into their core work".
Many commissioners were not sufficiently drawing on VCSE resources or involving it in shaping plans, he said. "Too much commissioning is actually procurement, but a crucial role is to understand all the resources and potential in an area," Mr Fox said. Commissioners needed to hear "voices, especially from those most commonly overlooked, to reach those who are excluded", he added.
In a likely signal of the review's conclusions, Mr Fox said nationally set levers, rules and incentives were not set up to deliver the role for the sector envisaged in the Five Year Forward View and the Care Act.
"The forward view isn't just a vision for healthcare that's in smaller buildings," he said. "It is for healthcare which gets alongside people and helps them to help themselves, helps families and communities to support people.
"The only sector which really has a track record of reaching whole communities and getting them involved in designing services is VCSE. We know the statutory sector can't do that on its own."
He said "goals for local health and care systems… need to better reflect" the aim of "delivering wellbeing and resilience". "If we want a wellbeing system we need to be contracting for that," he said. "There are levers we can change. There are statutory levers out there that could be used more."
Mr Fox declined to specify levers the review might recommend but suggested they could involve new contracting models, or using health and wellbeing boards or planning processes such as joint strategic needs assessments.
The review is also expected recommend more use of a wider mix of funding methods, including newer sources. These include paying for referrals via "social prescriptions", where people are directed to non-clinical services provided by VCSE organisations; funding services via personal health budgets; and social investment, use of which has so far been very limited, Mr Fox said.
He added that more use could also be made of the Social Value Act, which requires commissioners to consider how their decisions might improve economic, social and environmental wellbeing. Only a small number of patches have employed it to "level the playing field" between VCSE providers and others, he said.