Experts advising on new CCG ratings may seek a delay
Jeremy Hunt has been seeking a new CCG indicator and scorecard system since 2014
Clinical area experts also concerned about using regulator style labels for ratings
Experts appointed to oversee new "Ofsted style" ratings for clinical commissioning groups may seek further delay to their release, HSJ understands.
The health secretary, who has been trying to put new ratings and indicators for CCGs in place since 2014, announced his latest plans at HSJ's annual lecture in October.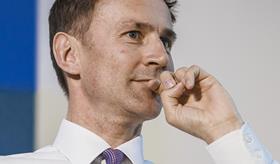 Mr Hunt said CCGs would be given overall ratings and for six clinical areas: cancer; dementia; learning disabilities; diabetes; mental health; and maternity.
The ratings would be the same as those used by the Care Quality Commission, going from "outstanding" to "inadequate", he said.
The King's Fund, which the health secretary asked earlier last year to advise on a CCG rating scheme, recommended against aggregate scores, and said if they were used they needed "to be based on… softer intelligence drawn from inspections related to leadership, culture and other factors" not just data.
Mr Hunt said in October: "In line with the King's Fund's recommendations, the ultimate judgements for these ratings will be made not by algorithm but by expert committees."
He said charity chief executives were being appointed to chair these independent committees, and the first ratings for clinical areas would be published "by June [2016]".
However, NHS England proposals for introducing the indicators, part of a new "assessment and improvement framework", give no fixed publication timetable for these ratings. The paper says: "A first assessment for each of these six areas will be published as soon as possible, derived solely from the metrics in the new framework looking at current baseline performance.
"This initial assessment is our 'beta' release, and will offer a useful starting point."
CCGs will be given overall ratings on the CQC style scale, under the existing CCG assurance system, in June. They will get ratings under the new framework in 2017, the NHS England document says.
Several sources with knowledge of the situation told HSJ that the expert chairs appointed in the six clinical areas, have discussed their approach, including the possibility of delaying publication of clinical area ratings beyond June if necessary. They are concerned the information available may not be adequate to give credible ratings.
In addition, the sources said, the chairs are concerned about the use of regulatory ratings which sound punitive, rather than terms designed to support and encourage improvement; and about whether NHS England will be able to help CCGs improve.
They may press for other ratings to be used, HSJ understands.
They will decide after feedback from the current consultation on the plans and following discussion with other expert group members.
The engagement document promises "a new focus on improvement" and says: "Our regions and commissioning operations will increasingly be responsible for supporting and catalysing local system transformation… NHS England's national programmes will help set out what good looks like, stimulate ambition, co-create replicable methods for care redesign, and provide insight and challenge."
The chairs of the expert committees
Mental health: Paul Farmer, Mind chief executive
Dementia: Jeremy Hughes, Alzheimer's Society chief executive
Learning disabilities: Rob Webster, NHS Confederation chief, and Gavin Harding, learning disability adviser, NHS England
Cancer: Sir Harpal Kumar, Cancer Research UK chief executive
Diabetes: Chris Askew, Diabetes UK chief executive
These are the chairs announced so far. A chair has not been appointed for the maternity expert group.
Exclusive: Advisers on Hunt's CCG ratings may seek delay
1

Currently reading

Exclusive: Advisers on Hunt's CCG ratings may seek delay

2