Many clinical commissioning groups plan major changes to their contracting and provider models, with a particular focus on primary and community services, an HSJ survey reveals.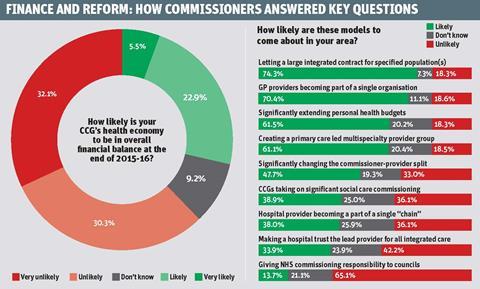 Our poll of CCGs' most senior leaders gives the first national indication of the approaches adopted in commissioners' five year plans, which are expected to shape a pivotal strategy document due to be published by NHS England next month.
However, the HSJ CCG Barometer also found more than 60 per cent of leaders expected their health economies to be in overall deficit in 2015-16, prompting concern they will be diverted from long term change by the need to balance annual budgets, and a lack of investment funding.
CCGs have been asked during 2014 to draw up five year service strategies with their providers. They have been encouraged by Simon Stevens, who became NHS England chief executive in April, to consider "completely reinvented" models of provision and commissioning.
Mr Stevens is expected to endorse a "range of care models" in a "five year forward view" for the NHS due to be published next month, which will draw on CCG plans.
HSJ's survey, of 109 CCG leaders from 90 CCGs, asked them to rate how likely they were to take different approaches, and to explain their own plans.
Nearly three-quarters said they were likely to let large "integrated" contracts for care for a specified population or populations (see graph, above).
Invited to comment on their intentions, many detailed strategies to create "accountable care organisations", an approach in which a group of providers are jointly contracted to meet the needs of a defined population.
A large number planned "prime provider" arrangements, in which a single organisation is contracted to oversee and organise services from different providers; and several favoured "alliance contracting", in which a range of providers are required to work together. All of these would involve a significant overhaul of existing contracts, with the aim of pressing providers to work more closely together.
The survey results suggest CCGs' reform plans are focused on services outside hospital, and that many prefer primary or community providers to be in charge of new arrangements.
More than 70 per cent said it was likely a significant proportion of GP practices in their area would become part of a single provider organisation. More than 60 per cent were likely to create a "multispecialty provider group" type organisation, based in primary care and incorporating additional specialties and social care services.
Respondents showed less interest in making local hospital trusts the lead provider for integrated care, with more saying this was unlikely than likely (see graph, above).
One CCG accountable officer in the south of England said: "We do not believe the acute trust is the appropriate organisation to lead integrated care for frail elderly people. They may well take on the lead for example, for the integrated [musculoskeletal] service."
Commissioners on budgets and conflict of interest
"I don't believe we can balance our budget by 2015-16 without beginning to decommission clinically justified services."
"Significant workforce shortages are starting to threaten the sustainability of services."
"Primary care co-commissioning risks alienation between the CCG and our members or conflicts of interests playing out more strongly."
"We already experience issues where decisions about spend [in budgets pooled with a council] are influenced by political expedience. If the health influence is limited further then decisions biased towards securing votes are more likely."
"[We are] actively pursuing integrated contracts around populations - [an accountable care organisation] type model."
"Our vision is to see the multispecialty provider groups growing from primary care, focused on the patient, with secondary care providing the specialist end."
An accountable officer in London said: "Our ambition is to integrate care between providers using a form of alliance contracting to enable providers to work together as equal partners."
Norwich CCG chief executive Jonathon Fagge told HSJ many commissioners were "actively exploring different contractual models… which move away from the purchasing of activity and start talking about responsibility for the whole population".
He said these moves would involve "effectively transferring some of that responsibility contractually and financially on to the provider".
HSJ's survey shows many CCG leaders expect they will have to make their planned reforms while under severe financial pressure. More than 60 per cent said they expected their health economy - both commissioners and providers - to be in overall deficit at the end of 2015-16.
NHS Clinical Commissioners co-chair Steve Kell, who is also chair of Bassetlaw CCG, warned the financial environment may impinge on CCGs' ability to bring about longer term service change.
Dr Kell said: "At the moment the NHS has to focus each year on balancing the budget without being able to take a longer term strategic view that is essential. CCGs are going to have to achieve transformation and efficiencies at the same time, which is incredibly difficult."
Fifty-seven per cent of survey respondents were accountable officers, 24 per cent chairs and the remainder held other governing body positions.
Exclusive CCG survey: Deficits threaten hopes for radical reform
1

Currently reading

Exclusive CCG survey: Deficits threaten hopes for radical reform

2

3