Department of Health to warn councils it may direct how they spend social care funds
In a separate row over this year's budgets, the NHS could withhold hundreds of millions in social care funding
There is pressure in the NHS to improve emergency care performance this winter
Ministers are set to issue a fresh warning to councils deemed to have made insufficient progress tackling delayed transfers of care, amid a bitter row over the withholding of funding.
Health secretary Jeremy Hunt is due to write to around 30 local authorities. The letter will express disappointment and threaten to nationally direct how the councils use millions of pounds of social care funding next year if they do not improve.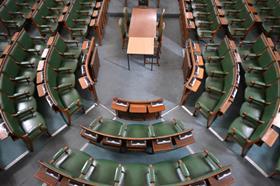 Meanwhile, a separate but overlapping group of 20-30 councils have been threatened with the withholding of funding, potentially running into hundreds of millions of pounds, this financial year. It could be used directly by the NHS to buy care capacity instead.
The letters are expected to say councils' share of the additional care funding pot, known as the "improved better care fund" – budgeted at £1.5bn in 2018-19 – would stay in their patch, but if they are judged as failing then the government may direct how it is spent.
It is unclear whether the letters will also be signed by a Department for Communities and Local Government minister.
They will be met with anger from councils, which have had big cuts to their budgets in recent years and believe an unjustified focus is being put on discharge delays at the expense of other care priorities. The Local Government Association has already condemned "the sudden and last minute setting of unrealistic and unachievable targets" for reducing delays. They have led to local rows in many areas.
The targets and enforcement regime were announced in July and the government is said to still be determined that the funds are used to help improve NHS performance in winter.
Several well placed sources expected the letters to be sent in the coming days, though they could be delayed. The affected councils will go into a national review process.
Ministers are also planning to send a letter to the councils deemed to have made enough progress, to congratulate them – which is concerning some people in the NHS who fear that social care related delays could still cause major problems even in these areas.
A separate dispute is over the release of the NHS's contribution to the BCF this year, worth £3.6bn in total, for areas judged to be non-compliant with its requirements – particularly to agree a plan to meet their DTOC reduction target this year.
Between 20 and 30 councils are currently considered to be non-compliant with a number saying they cannot meet the target in the required time.
Several well placed sources said officials had suggested in negotiations that areas' share of the £3.6bn could be withheld and instead used by the NHS to purchase social care capacity to free up hospital beds.
The areas are expected to go through further negotiations, followed by escalation reviews in the coming weeks, before final decisions are made.
The LGA has strongly objected to the targets and argued that uncertainty over release of the funds this year and next risks weakening social care services.
NHS Providers chief executive Chris Hopson said: "NHS Providers demonstrated in June that the extra £1bn of 2017-18 social care funding was not going to produce the NHS benefit the service had hoped for…
"If we had acted on the evidence at that point, trusts would have had three more months to create the capacity and find the staff required, both of which are now major problems."
He said the NHS was "a long way short of the capacity we need" to perform well in the winter, which was "frustrating and concerning".
NHS England chief executive Simon Stevens said at its board meeting last week that the NHS still needed more beds freed up, requiring work by the heath service, and "also the very difficult conversations that are happening in some parts of the country now around social care".
The DH was approached for comment.