NHS England backs plan to eliminate prescribing of "low priority" medicines worth up to £400m
Commissioners to tackle spending on "low priority" medicines including gluten-free products and paracetamol that can be bought over the counter
First phase of plan looks to eliminate £128m spending on 10 items
Commissioning leader says it is NHS's job to offer "clinically appropriate treatment", not "anything you like from the sweet shop"
Simon Stevens is to back plans to save hundreds of millions of pounds a year by cutting NHS spending on "low priority" prescriptions, including gluten-free products and medicines that can easily be bought over the counter.
The project, due to be supported in this week's Five Year Forward View "delivery plan", will aim to drive down spending on medicines in four categories that cost the NHS an estimated £400m a year. Commissioners said the NHS could not provide "anything you fancy from the sweet shop".
The categories to be targeted are:
products of "low clinical effectiveness";
products where there is a more cost effective alternative;
products that are clinically effective but deemed "low priority"; and
medicines which can be bought over the counter but are still sometimes prescribed, such as painkillers, antihistamines, suncream, and cough and cold remedies.
NHS Clinical Commissioners, which represents most clinical commissioning groups, has developed the project and sought national backing. Its first phase will focus on 10 medicines the NHS currently spends £128m a year on. These include gluten-free products and fentanyl – a strong pain medication usually prescribed for patients receiving palliative care (see box below).
Commissioners plan to develop plans for further phases of savings in the near future.
As well as trying to make rapid savings, NHSCC and NHS England are seeking to draw attention to the fact that, due to the huge financial constraints on the NHS, it is having to limit what it can offer.
In an exclusive interview with HSJ, Julie Wood, chief executive of NHSCC, said: "We need people to understand that this is about taking difficult relative prioritisation decisions.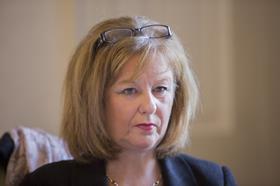 "It's about saying that in all that [commissioners] have got to do we can either spend the NHS pound in this way on paracetamol, or we can spend it on something else we need to do in mental health or primary care because we can't spend the same NHS pound twice."
NHCC co-chair Graham Jackson said these types of funding decisions "are barn door obvious".
"The NHS offer was always to provide clinically appropriate treatment, not anything you fancy from the sweet shop. Unfortunately, society has got to the 'I want it because it looks nice and shiny' attitude and we've got to turn that around," he said.
NHSCC said the project is aimed at helping commissioners to make "difficult choices" related to medicines funding and will look to gain a "national consensus" on the issue, with one option being to "black list" certain products.
Ms Wood added: "We are working with colleagues across NHS England, getting them to understand why it is essential that CCGs do this if we are to liberate the resource currently being spent on these medicines."
Consultation on next steps in relation to some areas is due to begin soon.
The changes are likely to prove controversial with some doctors and patient groups, for example those with coeliac disease who are wheat intolerant. There are occasional cases for others of the items targeted where it may be clinically justified to prescribe some of the medicines covered. NHSCC indicated that proper policies would need to be put in place for exceptional cases.
10 medicines in first phase of savings project
Products of low clinical effectiveness (total annual spend: £37.98m)
Omega three and fish oils (£5.65m)
Lidocaine Plasters (£17.58m)
Rubefacients (£6.43m)
Clinically effective products which have more cost effective alternative (total annual spend: £58.69m)
Liothyronine (£30.93m)
Tadalafil (£10.51m)
Doxazosin MR (£7.12m)
Fentanyl (£10.13m)
Clinically effective products that are deemed low priority (total annual spend: £31.35m)
Some gluten free foods (£21.88m)
Non-NHS funded travel vaccines (£9.47m)
Exclusive: Stevens backs major £400m medicines savings drive
1

Currently reading

Exclusive: Stevens backs major £400m medicines savings drive

2