One of the largest and most advanced attempts to bring about integrated, outcomes based commissioning has been delayed following objections from two powerful provider trusts, HSJ has discovered.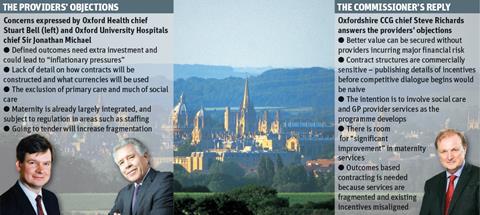 Integrated care Provider trusts voice criticism of Oxford CCG's business cases
Oxfordshire Clinical Commissioning Group is working on capitated outcomes based contracts for adult mental health, older people's services and maternity services, but when it published business cases last week significant opposition emerged.
The Oxfordshire plan has attracted national attention because it is among the most advanced and most ambitious.
The business cases state that there has been "significant interest nationally in the decision Oxfordshire CCG is taking", and that the CCG has "engaged nationally with NHS England and Number 10 in this approach". It adds that Monitor is "very interested" in the plans. The prime minister's Witney constituency falls within the catchment area of the CCG and both provider trusts.
However, Sir Jonathan Michael, chief executive of Oxford University Hospitals Trust, and Stuart Bell, chief executive of Oxford Health Foundation Trust, wrote a 1,400-word letter to the CCG detailing wide ranging concerns.
Their objections included: that the CCG had not taken into account its plans' impact on the local health workforce; that they introduced financial and clinical risks; that they caused further fragmentation; and that there was "limited evidence" supporting them.
Under the CCG's proposals, formal procurement could have begun this month, and contracts gone live in June or July.
The three business cases were discussed at last week's Oxfordshire CCG governing body meeting, where it was decided that in light of the trusts' objections the pace should be slowed. A revised timetable is due to be published later this month. Commissioners also resolved to involve the two incumbent providers more closely in designing how the system will operate.
If implemented as currently set out, the contracts would account for 30-40 per cent of Oxfordshire CCG's £612m commissioning budget.
Paul Corrigan, a former adviser to Tony Blair, has worked on designing capitated, outcome based contracts with the COBIC consultancy, which has been working with the Oxfordshire CCG. He said: "Everybody says [large providers] need to change their model of care. But only when commissioners say we're really going to do this do they sit up and take notice."
Professor Corrigan, who is also a close associate of incoming NHS England chief executive Simon Stevens, added: "What is heartening is that it's a CCG, not the Department of Health, that's got their attention." He predicted other outcome based contracting plans would run into similar problems when they reached the business case stage.
Oxfordshire CCG chief executive Steve Richards told HSJ: "[The trusts] have now realised we are serious, and they want to be a part of it. That's great − we must work more closely with them in this new phase of collaboration to deliver better services in Oxfordshire." He said he was looking forward to further discussions with the current providers, but would go to market if progress was too slow.
Mr Bell said the outcomes based commissioning work was part of a broader programme of service transformation involving both trusts and the CCG.
"All that you're seeing is our desire to get all these bits fitted together as well as we possibly can. This is a big and complex piece of work − nobody has ever done it before." Both trusts have expressed support for the aims of the exercise.
Under outcomes based contracts, financial risk is shared with providers based on if their services deliver specified service improvements for patients.
The approach can be combined with a "lead provider" model, in which the main contract is awarded to one organisation that could then subcontract elements of the work to other providers.
In August, Bedfordshire CCG named Circle Health as lead provider for a five year, £120m outcomes based contract to provide musculoskeletal services. Similar work is also underway in Staffordshire for end of life care and cancer services, and HSJ has also learned of similar proposals in Northumberland, Croydon and Bexley.
GPs could play 'major provider role'
Oxfordshire Clinical Commissioning Group chief Steve Richards has urged GPs to work with trusts to bid for the outcomes based commissioning contracts, arguing that his plans presented an opportunity to establish an integrated provider organisation.
The business cases presented last week did not include primary care services, as these are commissioned by NHS England, and Dr Richards acknowledged that this was an "inhibitor of some of the discussions" relating to the setting up of integrated care contracts.
But, he told HSJ, the opportunity was still there for GPs to get involved. The county was in the "early stages of change", with GP practices moving towards "real federated ways of working and the ability to join contracts with other potential providers"/
Dr Richards said: "The opportunity is there for GP providers to work with community and mental health service providers to deliver care in a very different way.
"The state of general practice is such that they haven't quite woken up to that as a very serious possibility – they could be joint lead contractors with another body."
GPs could play a "major provider role in future integration and transformation", he added.
"They're understandably looking into the nitty gritty of the new GP contract, but need to be giving at least 50 per cent of their time to other ways of working that involve more transformational change, which I believe they can and should be a part of."
Dr Richards said that his outcomes based contract plans could lead to the creation of a local "responsible care organisation", by bringing together provider trusts, GPs and social care.