Sarah-Jane Marsh becomes the latest provider chief executive to get national role
Appointment is on a secondment basis
Ms Marsh recently named one of HSJ's Top Chief Executives
NHS England has appointed another leading provider chief executive to a national role – to lead the transformation of maternity services.
Sarah-Jane Marsh, chief executive of Birmingham Children's Hospital and Birmingham Women's Hospital foundation trusts, has been appointed to chair a new maternity transformation board.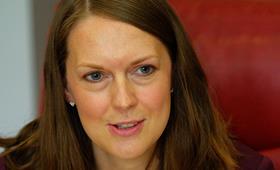 It follows the publication in February of a national maternity review, led by Baroness Cumberlege. Ms Marsh's job will be to lead the implementation of the review, which aims to cut the rate of stillbirths and neonatal and maternal deaths.
Ms Marsh is the latest trust chief executive to take on a national position. Earlier this month Claire Murdoch of Central and North West London FT was made mental health director. Last year Cally Palmer of the Royal Marsden was appointed national cancer director, and Pauline Philip of Luton and Dunstable University Hospital became national urgent and emergency care director.
All the appointments are secondments. Ms Marsh will retain her responsibilities leading the two Birmingham trusts.
She first joined the health service in 2000, and became chief executive of Birmingham Children's Hospital in March 2009. Last year Ms Marsh was appointed chief executive of Birmingham Women's Hospital as well. The trusts announced their plans to merge in late 2015. She returned from maternity leave this month.
Birmingham Children's Hospital was provider trust of the year at the HSJ Awards 2015, and this year Ms Marsh was named as one of HSJ's Top Chief Executives.
Ms Marsh said: "As a passionate advocate for women's and children's services, I am thrilled to be chairing the maternity transformation programme board…
"Pregnancy, birth and getting to know and love your baby should be the most precious and joyous time of a woman's life. The maternity transformation programme is committed to ensuring that those working across maternity services have the right environment, tools and resources to continually improve care for woman and babies."