The birth of CCGs is leading to more localised community nursing teams. But is this at the expense of specialist care?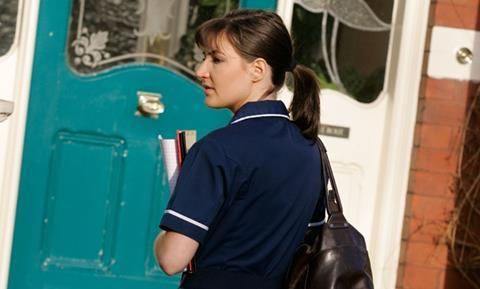 A district nurse arriving for a home visit
Community nursing teams were traditionally based around GPs' practices, working closely with staff at the surgery.
But over the last decades that has changed with many areas introducing a model where community teams worked over a wider geographical area, weakening links with GPs and their staff.
But the advent of clinical commissioning groups and standalone community trusts has raised the question of how they should be organised in the future. In some areas, there has been a move back towards practice-centred teams or teams linked to a number of smaller practices.
Two years ago, for example, teams in Eastern and Coastal Kent started to be realigned around practices rather than larger localities, and community matrons were also linked to specific teams. £1.5m was invested to strengthen frontline nursing.
In Hampshire, single community care teams have been based around populations of 30,000 - effectively groups of practices. In Norfolk, the community trust is also structuring its community nursing and therapy teams more closely around practices.
Welcome shift
For many GPs this is a welcome move. Johnny Marshall, interim partnership development director of NHS Clinical Commissioners, says: "We are seeing much closer working between GPs and community teams - recognising the importance of integrated care."
Dr Marshall thinks this is intentional as commissioners recognise the need for coordinated care between primary care and community services.
"It's not just change for change's sake," he says. "I think people also recognise that there are some community services which are based around a GP practice's population."
The approach helps communication with personal relationships being strengthened and GPs knowing who to contact; accountability is often clearer. Dr Marshall suggests this closer working relationship can help spot deteriorating patients and work together to improve their care.
The staff affected are normally nursing teams for whom the weight of cases from a large practice means there are sufficient patients who need nursing input to support this approach. Other services, needed by smaller numbers of patients, may remain based on larger areas.
The next step could be co-location so that nursing teams would be returning to a base shared with primary care - as some already do. But this would be more difficult and depend on premises which might not be suitable.
Where are the specialists?
But there are downsides. Howard Catton, head of policy at the Royal College of Nursing, is cautious about the move. International evidence suggests that having an effective multidisciplinary team may be important in keeping people out of hospital or ensuring they can be supported at home once they leave hospital, he says.
Those teams will usually have a community-based nurse, but often some specialist nurse input, as well as other healthcare professionals and someone from the social care side. The role of care coordinator or case manager seems to be a critical part of the picture (he points out community matrons have often played this role but their numbers have declined slightly recently).
Having this team seems to be what makes the difference rather than how they are structured around organisations.
Mr Catton also points to the importance of specialist nurse input into a patient's care: but they are likely to be spread over a much wider area than a practice or group of small practices. How their input can be accessed and used by teams may be crucial in achieving objectives such as keeping people out of hospital.
Care in isolation
And there can be practical difficulties with smaller teams. They may find it more difficult when someone is off work sick or for continuing professional development, for example. Some staff may need to rotate back into a different setting to keep up their skills or see a full range of cases. Staff may feel more isolated from their peers - especially if the model extends outside nursing into smaller healthcare professions.
Care is also needed to ensure that there is equity - not just in the population a nurse is expected to cover but in their needs. As community teams are usually employed by community trusts, there management structure will report into the trust: they work alongside GPs and their staff, rather than reporting to them.
And community nurses would be keen to retain the distinction between what they do and what other staff, including those in primary care, should be expected to do: they have a distinct role which - however it is structured across an area - needs to be recognised and supported.