NHS England says the long-term NHS plan will spread new care models via primary care networks and integrated care systems
NAO reports new 'early signs' of impact but says 'depth and scale' of transformation not achieved
Report reveals vanguards had been set to receive £2.2bn from 2014-15, until funding was reallocated to cover trust deficits
Says NHS England needs to break out of "previous cycles of missed opportunity"
NHS England's chief executive says the organisation "will sustain and spread the vanguard new care models" through the long-term plan for the NHS.
The comment was made to the National Audit Office, which cites it in a report on the new care models programme, published today.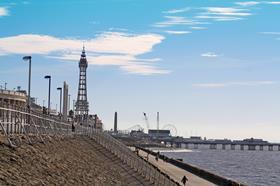 Blackpool has had one of the most high profile vanguard projects
An NHS England spokesman, responding to the report, added that it was "crucial to build upon [vanguards'] progress as the NHS develops its 10-year plan". A plan is expected to be published in November, after the announcement of a funding deal by the government earlier this month.
National vanguard funding, and the national programme, ended in March this year and the NAO report said NHS England "has not yet communicated its intentions on new care models" for the future.
The current focus of NHS England's integration work is primarily on "integrated care systems" and "primary care networks", which it has said will cover England by April 2019, with little work on the earlier vanguard models such as multispecialty community providers and primary and acute care systems.
This approach appears likely to continue in the long-term plan. The NAO report states: "NHS England told us it intends to spread new care models through ICSs and networks of primary care providers as part of an NHS 10-year plan."
The NAO called for government, NHS England and NHS Improvement to "ensure there is adequate support for local organisations" for transformation, including "appropriate national funding".
The report reveals that in 2014-15, NHS England modelled the possibility of introducing six "waves" of vanguards up to 2021, spending around £2.2bn on them. It estimated this would ultimately save £1.4bn annually. Although it modelled this, NHS England never committed to this as its plan and instead allocated around £400m to more than 50 vanguards between 2015 and this year.
The report says: "The original intention to expand the vanguard programme was not realised because funding was reallocated to reducing trusts' financial deficits."
The NAO cites new figures from NHS England suggesting the new care model areas saw distinctly slower growth in emergency admission rates than elsewhere, but adds that despite these "early signs… the long-term impact and sustainability of vanguards is still not proven".
It cites new information from NHS England, that: "In the 12 months to March 2018, compared with 2014-15, emergency admissions [per capita] in vanguard areas grew by 0.9 per cent in [multispecialty community providers] and 2.6 per cent in [primary and acute care systems], compared with 6.3 per cent elsewhere." It says these are subject to some "inconsistencies in the data".
In relation to overall value for money, the report says vanguards were "one in a series of attempts to transform the NHS" and "has not yet delivered the depth and scale of transformed services it hoped for". It adds: "The chief executive of NHS England confirmed to us his commitment that NHS England will sustain and spread the vanguard new care models through a long-term plan.
"We look forward to seeing this carried through, so that NHS England breaks out of previous cycles of missed opportunity and delivers full value for money."