NHS England equalities chief faces corruption charges
He was due to appear at court this morning alongside Paula Vasco-Knight and another man
Local media reports he pleaded not guilty
An NHS England equality lead has been charged with three counts of assisting in the commission of an offence in breach of the Serious Crime Act 2007.
Habib Naqvi appeared at Torquay Magistrates Court on Thursday morning and he pleaded not guilty.
He is due to stand trial at Exeter Crown Court on June 24.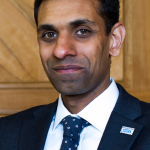 The three charges relate to a period between October 2012 and August 2013.
Dr Naqvi is a senior member of the team working on equalities for NHS England and led on the health sector's response to a ministerial review of the equality duty on public bodies.
NHS England confirmed that he had been suspended but would not confirm when, or who was leading NHS England's equality work in his absence.
An NHS England spokeswoman said: "Dr Habib Naqvi has been suspended from his duties. We are supporting this legal process so can't make any further comment until that process has concluded."
He was scheduled to appear before magistrates alongside former NHS England national equalities lead and hospital chief executive Paula Vasco-Knight and another man who faced fraud charges.
Dr Naqvi's NHS England biography said he has a "background in equality, health policy and health psychology. He has an interest in equality and health research and is an occasional lecturer at the University of the West of England and at the University of Bristol."
He has also overseen the overhaul of the Equality Delivery System in the NHS.
*Update at 5.39pm. May 26th*
NHS England have now responded. A spokeswoman said: "NHS England's Health Equalities and Health Inequalities team continues to deliver the important work that they undertake on behalf of the NHS, led by Ruth Passman, head of equalities and health Inequalities, who has occupied this role since NHS England was formed. Dr Naqvi is a member of that team, not the leader of that team. This team continues to lead upon the Equality Delivery System 2 (EDS2) and supports the functioning of the NHS Equality and Diversity Council.
"The equalities and health inequalities team is also complemented by the aligned team focussing upon the Workforce Race Equality Standard (WRES) for the NHS. This team continues to be co-directed by Yvonne Coghill OBE and Roger Kline.
"Both these teams are led by John Holden, our director of policy, partnership and innovation, within the NHS England commissioning strategy directorate."
NHS England would not confirm when Dr Naqvi was suspended or how long he had been in post.