A "significant amount" of health and care commissioning in Greater Manchester will be done by provider organisations in future, the new chief executive of the region's combined authority has said.
In an interview with Local Government Chronicle, Eammon Boylan, who took up his post at the Greater Manchester Combined Authority at the start of this month, described how councils and clinical commissioning groups in each of the area's 10 boroughs will move into a single commissioning function and begin to commission based on outcomes "rather than minutely measured levels of activity".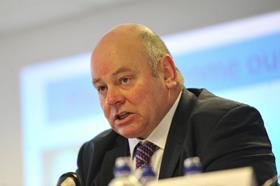 Last week HSJ reported that Manchester city council and the city's three CCGs, which are in the process of merging, had launched a tender for a "local care organisation" to provide all out of hospital care. The contract is worth £6bn over three years. In Tameside metropolitan borough council, where an accountable care organisation is under development, chief executive Steven Pleasant is already chief officer of Tameside and Glossop CCG.
Mr Boylan said the models would differ slightly in different boroughs to allow places to build on established good practice. He stressed the objective was "not to subsume NHS organisations into the combined authority" but to see "increasing levels of conjoining and collaboration". He said in some places that could mean full pooled budgets, and in other areas progress would be "more incremental".
Mr Boylan added: "The idea of bringing people into a single commissioning function that can look across the whole health and social care spectrum is a fundamental building block. Quite clearly the functionality of the CCG in large part will move into that role…
"A significant amount of commissioning will actually be done within the new provider organisations that are being established… by bringing together existing providers into new organisation forms to enable them to respond to the single commissioning voice through an integrated provision."
Greater Manchester was namechecked in the Next Steps for the Five Year Forward View as one of the nine areas likelyto lead the way in developing accountable care systems. Mr Boylan said the region was implementing the Five Year Forward View "but in a way that works for Greater Manchester".
"The fundamental objective will be to create a sustainable system that can live within its financial envelope and deliver better health outcomes, primarily through a substantial shift from spend at the acute end… to a preventative based locality approach where care is delivered to people closer to home," he said.
Asked why Greater Manchester would be successful when many places had been talking about such changes for a number of years, Mr Boylan said: "Because we are bringing a systemic approach to it [and] we have got access to a transformation fund which is enabling us to double-run in order to get services up and running."
Greater Manchester was given a transformation fund worth £450m over five years by NHS England in 2015. NHS England said the fund represents Greater Manchester's "fair share" of national funding over the period, though no other region has so far been given a similar pot.
Mr Boylan said: "What no one is suggesting is that we should start by cutting off the supply of money to the acute sector but we are confident that the systems we are putting in place with primary care at the very heart of it [will drive this change]."