Patricia Wilkie shares her experience as a recipient of OOH care and highlights how it could be improved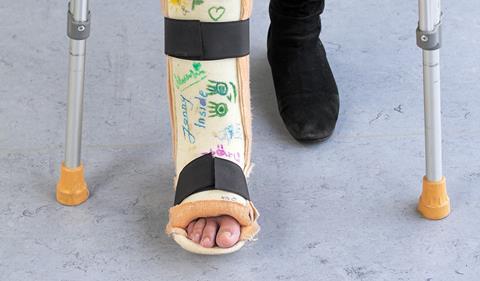 They had not been given the medical information I had given including current symptoms, past relevant history and that I had a leg in plaster
There has been much heated debate recently about the quality of out of hours services, the position and responsibilities of GPs, the pressures on accident and emergency departments and the problems for commissioners. Clinicians, managers and politicians all acknowledge that patients do not always receive an adequate service.
Lack of finance, the 2004 GP contract, staff shortages, low morale, an ageing population and inadequate social care, more people living with multiple morbidities and more reorganisation of services have all been blamed. And in the middle is the patient who often has no choice but to use the service. Patients do grumble.
'Patients do not have a collective voice and it is not clear to whom they should comment about the quality of the service'
It should be remembered that patients do not have a collective voice and it is not clear to whom they should comment about the quality of the service. Those who are more determined may write to their MP or contact a patient organisation.
Unfortunately there have been very few studies of patient experience of out of hours services. In March, The Patients Association surveyed 1,500 patients about their views of the OOH services. Of the respondents, 79.2 per cent said that they would not feel safe relying on OOH services for a potentially urgent medical problem and 54.8 per cent were unhappy with the OOH care they had received in the last two years.
What patients require from OOH services is easy and fast access to high quality professional help and advice from competent practitioners. They also need an assurance that doctors working in the service are competent in all aspects of their work and up to date with professional knowledge and skills.
Out of hours in action
My recent experience of having to use the OOH services was mixed. In the middle of the afternoon I went to a walk-in clinic with a swollen and painful ankle having slipped on the stairs at home. I was told I needed an x-ray but the x-ray department closed at 5pm and there was a minimum two-hour wait. It was recommended that I go immediately to the A&E department of a local district general hospital. There, a fractured ankle was diagnosed, a half plaster put on by a nurse and an appointment for the fracture clinic given for five days later.
A week later I developed an acute infection, affecting both chest and gut, which got worse after some days. On Saturday morning at 11am I phoned 111. After a 25 minute wait a voice replied; I was asked questions, I explained the problem. Quickly I was told that a home visit was recommended and to expect a doctor within six hours.
Five hours later I received a call from "not the engineer, but the driver from the OOH service" asking whether I could "pop along" to the treatment centre as they had been given very scant information about me. They had not been given the medical information I had provided, including current symptoms, past relevant history or told I had a leg in plaster.
'The out of hours service had not been given the information I provided'
Two hours later, someone – presumably a doctor but I have no way of knowing as he did not introduce himself nor offer any identification – arrived and after a short examination quickly recommended antibiotics. I was given a choice of three that were in the car. I did not know what to take. Unfortunately my choice made me very sick. I tried to contact the doctor on the number of the provider on the medicine package but there was no reply.
No appointments
On Monday I tried unsuccessfully to make an appointment with my GP. I phoned again on Tuesday morning but all the appointments had gone by 8.45am. I resorted to asking for a home visit and an appointment for that afternoon was offered.
I do not know precisely the range of problems that can be treated in nurse-led walk-in clinics. However, given that patients with quite complex health problems previously treated only in hospital are now looking after themselves at home, it seems possible that an extended range of problems could be safely treated in these places.
In my case, the entire treatment was carried out in A&E by a senior nurse. No doubt the x-ray had been seen by an orthopaedic surgeon, but with the picture archiving and communications system, the x-rays taken in a walk-in clinic could be sent through to the orthopaedic department of a district general hospital for diagnosis; treatment could then be carried out when appropriate by a suitably trained nurse.
Continuity of care
Jeremy Hunt's speech about OOH services at the King's Fund raises familiar problems but really does not offer immediate practical solutions. He mentions the difficulties for some patients of getting a same-day appointment with their GP. It would be helpful if there was a system where patients who have had a home visit from the OOH service are given an appointment with their GP or the opportunity for a telephone consultation. Such a system would help ensure the patient's GP is maintaining some control over their care.
'Commissioners need to reassure patients that doctors providing OOH are accountable, up to date and fit to practise'
Many patient organisations have long argued in favour of patient-held medical records. The government's information strategy paper The Power of Information stated an expectation that all GP practices in England would offer patient online access to medical records by 2015. This should enable out of hours services to have access to salient factors of the patient's medical history including, for example, current and recent medical conditions, treatments and allergies, adverse reactions and immunisations. This will be of considerable benefit to patients and health professionals in the OOH service. Such a system must of course be with the knowledge and agreement of the patient.
Patients do want continuity of care but do not expect their GP to be available during the day and on call every night. What is unacceptable to patients is the anonymity and lack of accountability of some providers of OOH services, and the lack of continuity.
Fit to practise?
Commissioners need to reassure patients that doctors providing OOH are accountable, up to date and fit to practise. GP cooperatives, which may include the patient's own GP in the rota, can provide such reassurance for patients and GPs alike. A GP consultation is in isolation but doctors working in cooperatives are likely to be known to one another. This may be in contrast with doctors working as permanent or temporary locums with commercial providers of OOH services.
Based on my own experience, some immediate recommendations for commissioners wanting to improve the quality of OOH services are:
111 calls needs to be answered quicker;
Information about the patient from the call centre to the doctor conducting the home visit must be accurate and comprehensive;
Drivers need to be properly trained. It is not professional to say "I am not the engineer, just the driver";
Doctors on home visits must introduce and identify themselves for their own security, as well as that of the patient;
Patients and the public need to know that all doctors providing OOH services are fit to practise, as described by the General Medical Council;
Patient reported outcomes should be introduced for those using OOH services.
There also needs to be widespread and clear information for the public on how to make the most appropriate and effective use of OOH services. This should be available in all doctors' surgeries, practice leaflets, outpatient departments and A&E. Voluntary organisations – such as the National Association for Patient Participation, which works in primary care – could help in this respect.
Patricia Wilkie is president and chair of the National Association for Patient Participation, pwilkie@inqa.com