One in five specialised hospital services fall short of the quality standards set for them by leading clinicians, HSJ can reveal.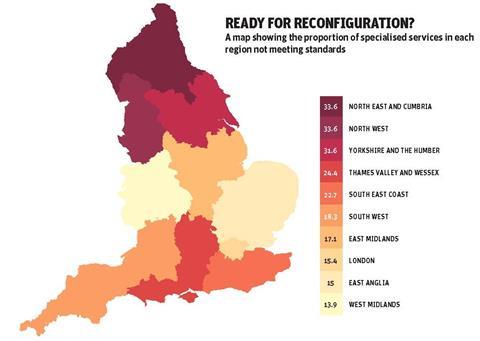 An analysis of data on more than 3,700 specialised services across almost 300 providers in England found 81 per cent of acute and nearly half of mental health providers were not fully compliant with national standards. The standards, set for 183 service types, were introduced by NHS England when it took over responsibility for specialised commissioning in April 2013.
The shortfalls, pinpointed using recently published data by NHS England, are an indication of where services and areas could face reconfiguration in the next decade and which providers could struggle to hold on to specialist work.
The standards were developed by clinical reference groups made up of leading clinicians from across England. The specifications go beyond the quality and safety requirements used by the Care Quality Commission.
Providers falling short of the standards are issued with derogations, allowing them to continue services while improvements are made. Almost 60 per cent of the 844 "provider" derogations listed in the data pointed to action required by providers, such as the recruitment of specialist nurses. The remaining 40.5 per cent were "commissioner" derogations, suggesting structural problems more likely to be resolved by reconfiguring services.
Services that most commonly fell short of the standards on the commissioning side included: severe asthma; neonatal critical care; specialised burns; and vascular, the latter of which is already being centralised across most of England (below).
Adult chemotherapy services, delivered by 137 providers, had the largest proportion of provider derogations, with almost 68 per cent of organisations considered to be non-compliant.
The data also revealed significant regional variation in the number of derogations.
NHS England's three regions in the North have around twice the proportion of derogations than London and the West Midlands.
The data also suggests a different pattern of issues in mental health and acute services, with a larger proportion of "provider" derogations in mental health services - 28.7 per cent compared with 12.6 per cent for acute, but more commissioner derogations in acute services - 9.4 per cent compared to 3.7 per cent in mental health.
Overall, the number of derogations in place appears to vastly outstrip the "rare occasions" on which NHS England originally anticipated they would be used. This suggests specialised service specifications represented big improvements to existing services. The fact that specialist provider trusts were more compliant could also support the views of some senior healthcare figures that specifications are "too aspirational" for smaller providers.
HSJ understands NHS England could revisit specifications where large numbers of derogations are in place.
Foundation Trust Network head of policy Miriam Deakin said specifications were a "good driver" to improve services for patients, but pointed to the difficulties of hitting standards while funding was constrained.
"We need to be realistic about what we can achieve within the funding and within the timeframe," she added.
While providers will be expected to have addressed all their derogations by next April, no timescale has been set for dealing with commissioner derogations.
Providers that have not addressed their derogations could ultimately be decommissioned or see payments made under NHS England's commissioning for quality and innovation regime withheld.
Under its former chief executive Sir David Nicholson, NHS England had proposed centralising specialised services into 15-30 centres. However, the new specialised commissioning directorate is expected to take a more pragmatic and staggered approach to reconfiguration, recognising the time and resource required to drive change.
HSJ understands a stocktake in September this year, which took place following the June data analysed above, may have led to some provider derogations being lifted. This has not yet been published.