NHS England chief executive Simon Stevens has hit back at criticism of the new better care fund planning guidance by insisting a "laissez faire" approach had not improved the quality of care for elderly patients.
The Local Government Association has withdrawn its support for the document after the government imposed a stronger requirement for the £2bn of extra social care funding, announced in the spring budget, to be spent on reducing delayed transfers of care from hospitals – including the possibility that funding would be removed from poorly performing councils.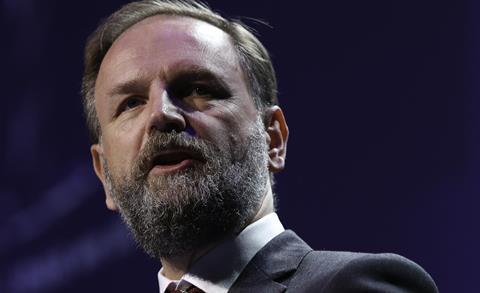 Chair of the LGA's community wellbeing board Izzi Seccombe told Local Government Chronicle the government had bowed to pressure from NHS England and the move would damage efforts to integrate health and social care services.
Chairing a session featuring Mr Stevens at the LGA conference yesterday, Ms Seccombe told delegates the guidance was "completely unacceptable". She said threatening to withdraw funding from poorly performing councils risked damaging the health and care system.
Mr Stevens said the government had decided to act because pressures on social care funding had resulted in a doubling of delayed transfers caused by delays in assessments and care packages.
He said: "If you think back to what happened last winter, the reality is that in many hospitals across the country for your residents and our patients the quality of care for really sick patients was not as good as it should have been.
"The reality of laissez faire is that it hasn't actually worked in every part of the country and therefore something more focused is clearly needed if we are going to put ourselves in a better situation going into this winter."
Asked to expand on his comments by LGC, Mr Stevens said: "Councils and the NHS have a shared interest in making sure that some of the funding that government has made available is used for extra social care packages so the people of this country get safe A&E care."
Mr Stevens said this was in the "joint interests" of the NHS and social care as it meant residents would get safe care and it would address concerns raised by the National Audit Office and the Commons public accounts committee that the BCF had not had enough impact on pressures on the NHS.
When asked whether he thought the threat of withdrawing funding from poor performers was necessary, Mr Stevens said: "Right now what we have seen is quite a big difference across the country in your chance as an old person of getting care. What the government has said is a minority sum of the additional resource that the chancellor put into adult social care needs to help with this."
On whether NHS England had pushed for the threat of withdrawing funding to be added to the guidance, Mr Stevens said: "Patients and the NHS and social care services all can see that it's a problem of the last three years. The equivalent of six hospitals worth of beds have been out of action because of delays in people getting [care]."
Mr Stevens added that if an approach focused on reducing NHS pressures worked, it would create a "strong public case" for social care to be properly resourced.
The BCF guidance for 2017-19, published on Monday, says councils must use their allocations to help meet a target to reduce delayed transfers of care from hospital to free up 2,000-3,000 hospital beds.
Performance will be judged on a range of metrics focused on the interface of health and social care and the Care Quality Commission will inspect areas with the worst outcomes. The government will then consider withdrawing funding to councils assessed to be performing badly, but has said this will only affect 10 per cent of funding and the money will remain with local government.