Simon Stevens announces first eight accountable care systems
Potential for £450m tranformation funding in exchange for them taking on "accountability" for population health
Simon Stevens has announced the first eight "accountable care systems", saying they will be given control of up to £450m in transformation funding.
Speaking at NHS Confederation conference today, the NHS England chief executive said: "We are now embarked on the biggest national move to integrating care of any major western country." He pledged to end "the fragmented system that passes people from pillar to post".
The ACSs will bring together providers and commissioners to help break down barriers between primary, secondary and social care, NHS England said.
The first eight ACS regions will be:
Frimley Health;
South Yorkshire and Bassetlaw;
Nottinghamshire, with an initial focus on Greater Nottingham and the southern part of the sustainability and transformation partnership;
Blackpool and Fylde Coast, with the potential to spread to other parts of the Lancashire and South Cumbria STP at a later stage;
Dorset;
Luton, with Milton Keynes and Bedfordshire;
West Berkshire; and
Buckinghamshire.
Seven of the eight were named in NHS England's Next Steps document in March as "likely candidates" to become ACS. Buckinghamshire has been selected as an ACS but was not listed in the March plan.
Greater Manchester and Northumberland were also listed as "likely candidates" in March. In the case of Manchester, NHS England indicated that it did not need to be listed as an ACS now because it already had more advanced arrangements under its "devolution" deal.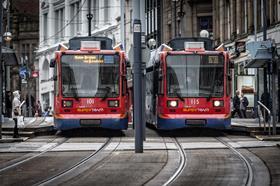 NHS England said: "It is expected that West, North and East Cumbria and Northumberland could join the group of accountable care systems later in the year."
The regulator said that for the eight areas there was "indicative potential to control around £450m of funding" between them, over four years, in exchange for taking on "accountability" for improving population health.
The ACSs have "agreed with national leaders to deliver fast track improvements" and in return will receive "more freedom on decisions over how the health system in their area operate".
These fast track improvements will be in areas of national clinical priorities such as cancer and mental health, investing in primary care to improve access and reducing the strain on emergency departments.
Mr Stevens also used his speech to announce a new health devolution deal for Surrey Heartlands, which will be "similar" to the existing one in Greater Manchester.
Overall the nine areas will provide "better joined up services" to an estimated 7 million people.