Simon Stevens has confirmed he plans to give some clinical commissioning groups the ability to co-commission primary care with NHS England.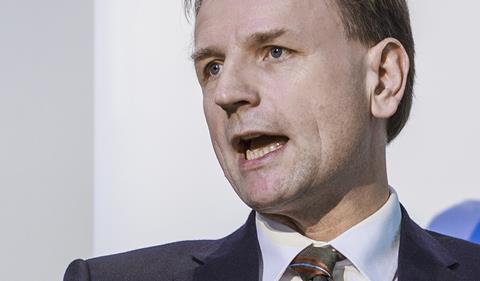 Simon Stevens, Chief Exec of NHS England and Jeremy Hunt, Secretary of State for Health at the NHS commissioners conference at Congress Hall, 1st May 2014. Commissioned by Judy Skidmore for HSJ
Mr Stevens announced today he would invite CCGs to "come forward and show how new powers would enable them to drive up the quality of care, cut health inequalities in primary care, and help put their local NHS on a sustainable path for the next five years and beyond".
NHS England said CCGs should "describe the additional powers and responsibilities" they would like. It is unclear whether CCGs' new powers could stretch to holding budgets or contracts for core GP services.
The vast majority of the primary care budget has, since April 2013, been held by NHS England. This was because of concern about a conflict of interest for CCGs, which are membership bodies formed of GP practices, if they controlled general practice budgets.
Applications will be tested by NHS England, including for "how they will ensure transparent and fair governance - with a continuing oversight role for NHS England to safeguard against conflicts of interest". Proposals will form part of the five-year plans for services which CCGs are developing during spring-summer 2014.
Other tests for NHS England to approve extending CCGs' role will include whether they will "advance care integration, raise standards and cut health inequalities in primary care".
Mr Stevens was speaking to the NHS Clinical Commissioners annual conference in London today. He said: "England has now taken the bold step – unique in the western world – of putting two thirds of its health service funding under the control of local family doctors and clinicians.
"If we want to better integrate care outside hospitals, and properly resource primary, community and mental health services - at a time when overall funding is inevitably constrained - we need to make it easier for patients, local communities and local clinicians to exercise more clout over how services are developed.
"That means giving local CCGs greater influence over the way NHS funding is being invested for their local populations. As well as new models for primary care, we will be taking a hard look at how CCGs can have more impact on NHS England's specialised commissioning activities."
CCG leaders have repeatedly expressed frustration with NHS England's commissioning of primary care in HSJ's regular CCG barometer surveys.
HSJ reported on Tuesday that Mr Stevens was set to back further co-commissioning, and last week that NHS England had stepped up its work exploring how this could take place.
There are various possible forms that "co-commissioning" could take. NHS England's announcement statement today said: "In accordance with national legislation, NHS England (and its area teams) will in all parts of the country continue directly to discharge specific primary care responsibilities, including in respect of community pharmacy, primary dental and ophthalmic services, as well as certain responsibilities in respect of [general practice]."