Simon Stevens says NICE authorisation can make it "harder" to run a procurement for new drugs, because "implied price" set during appraisal
NHS England chief executive says PPRS, NICE appraisals and NHS England commissioning need "aligning"
Mr Stevens says inclusion of "affordability" in NICE process "a debate I expect we will have"
Authorisation of a drug by the National Institute for Health and Care Excellence can make it "harder" for NHS England to get a good deal from pharmaceutical companies, Simon Stevens has said.
The NHS England chief executive said the health service had a "confusing set of mechanisms for choosing and reimbursing innovation", which needed "aligning".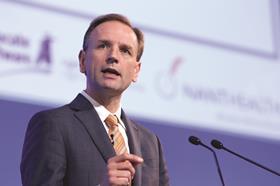 Last week Mr Stevens told the Commons public accounts committee that the pharmaceutical price regulation scheme, NICE appraisals and NHS England commissioning, were not "interacting optimally".
Elaborating on the comments in an interview with HSJ, he said NICE's approval of new treatments in specialised services – which NHS England is then obliged to fund – could have the effect of "pre-empting… what's available for other parts of the specialised commissioning pipeline". This is because the requirement to commission NICE approved drugs leaves NHS England with less money to allocate to other potential treatments.
It could also make it more difficult for NHS England to negotiate down the price of expensive new drugs, Mr Stevens argued.
"For those [drugs] covered by NICE appraisal, there is an argument that says that makes it harder to then run a competitive procurement process, when in effect the implied price has already been set through the appraisal," he said.
Mr Stevens said the government's "accelerated access review", which is looking into improving uptake of medical innovations by the NHS, and which is due to be published after the EU referendum, would address some of these issues.
However, he said there would probably have to be further work to align what was a "confusing set of mechanisms for choosing and reimbursing innovation".
The affordability of innovative drugs has achieved prominence recently with the introduction of new hepatitis C treatments.
NICE judged the drugs to be cost effective but they are expensive and represent a significant financial risk to NHS England.
When asked whether NICE should explicitly consider the "affordability" of new products as well as their cost effectiveness when making decisions, Mr Stevens said: "I've heard that argument made, particularly where the aggregate cost consequence in any year is above a certain threshold."
"If you don't do that then potentially you crowd out the uptake of other innovations in a particular period of time, so that's a debate I expect we will have."
Mr Stevens said NICE had "served us well since its creation", and praised the "pragmatic" approach it had taken in giving NHS England flexibility to roll out the hepatitis C treatments on a "phased" basis.
He also said there was "more opportunity" for the NHS to "pull through" new products, particularly devices, using "commissioning for quality and innovation [payments] and other financial incentives".
Exclusive: Stevens floats 'combined authorities' for the NHS
1

2

3

4

Currently reading

Stevens: NICE process makes it 'harder' to strike deals with pharma

5